When you attend Homebuyer Education with NeighborWorks of Western Vermont, you will be taken through the entire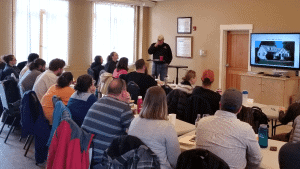 homebuying process from beginning to end. But who will you be meeting at this class, and who will be presenting? Of course, you will meet the class facilitator who will take you through the pros and cons of homebuying and navigate you through one presenter to the next. Below are the five other individuals you can expect to meet at Homebuyer Education, and what they have to offer you.
A Lender.
One of the first guest speakers you will meet is a licensed lender from a local bank or credit union. They will go over how to apply for a loan, namely a mortgage (although you can utilize their expertise for other types of loans as well), and the different types of mortgages available. They will also touch on assistance programs, such as NeighborWorks of Western Vermont's Down Payment Assistance Loan, and ways to improve your credit score. One handout you may receive is a mortgage cost comparison worksheet, which will show you how to compare different loan estimates, and goes over important aspects such as interest rate, loan term, and Loan-to-Value (LTV). Make sure to ask questions if you don't yet understand the mortgage process and they will be sure to help you understand!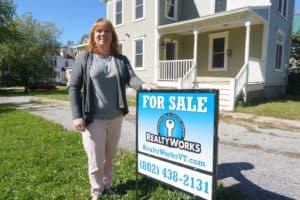 A Realtor.
The next guest speaker will likely be a professional realtor. They will be there to talk you through the home searching process and how to find the right home for your budget. They will also go over sales contracts and mandatory disclosures from both the realtor and the seller. The realtor may choose to share current listings they have available, which can be a useful starting point if you have not yet found the right home. If you are early on in your house hunt, connecting with the realtor from this class may be a smart move—they can help to find you the right home and represent you during the negotiation process.
A Home Inspector.
A home inspector will present to you, explaining why it is important to get a home inspection before purchasing a home. They will also go over what sorts of issues home inspectors look out for, and different problems like radon or lead paint that can be a serious health issue for you and your family. They may also give you an example of what a home inspection looks like on paper, as well as examples of important safety measures that you and your home inspector should make sure are in place, such as an updated photoelectric smoke detector.
An Insurance Agent.
Next, you'll get to speak to an insurance agent. Most lenders will require you to obtain homeowner's insurance before closing. The insurance agent will be there to explain the different types of insurance available, how to get it, and how to go about filing claims should the need arise. They will also go over the types of natural disasters that might affect your home, and why insurance plays an important role in this.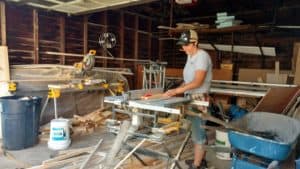 A Housing Repair Project Manager.
The project manager will likely be either Morgan Over or David Traver-Adolphus from NeighborWorks of Western Vermont. You can expect them to talk about "life after closing:" home repair issues to look out for and how to keep your house in good shape so that you don't run into any problems in the future. They will also be able to give good tips on what home issues to remedy should you decide to sell your home. If an urgent repair problem that affects your safety does arise, NeighborWorks can offer a Home Repair Loan and will oversee project management to make sure you are living comfortably and safely in your home.
Finding the right home for you can be difficult, especially if it is your first time buying a home. Our Homebuyer Education course is the first step in the right direction to obtaining your dream home. You will be able to connect with and utilize the individuals listed above, if you choose to do so.
To learn more about Homebuyer Education, simply visit here, where you can also view the class schedule, create an account, and sign up! If you have any questions, feel free to reach out to us at (802) 438-2303.
Beyond the class, NeighborWorks of Western Vermont strives to remain with you every step of the way through homeownership and beyond. Check out www.nwwvt.org to see all the different loans, classes, and community programs that we have to offer you!
Author: Jillian Branchaud, Community Engagement AmeriCorps Member