of NeighborWorks of Western Vermont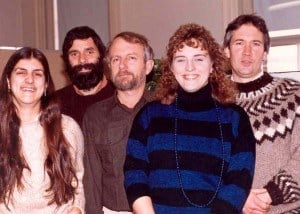 The Neighborhood Housing Services model goes back to a 1986 resident-led campaign for better housing in Pittsburgh, Pennsylvania. Dorothy Mae Richardson, a homemaker and community activist, did not want her neighborhood razed for "urban renewal." She enlisted city bankers and government officials to join with her block club to improve her neighborhood and allow residents to stay in their homes.
Together they persuaded 16 financial institutions to make conventional loans in the community and a local foundation capitalized a revolving loan fund. They rented a trailer, hired staff, and named the effort Neighborhood Housing Services.
NeighborWorks of Western Vermont started in 1986 as Rutland West Neighborhood Housing Services, a consortium of four towns: Rutland, West Rutland, Castleton and Fair Haven with the intent of stabilizing four deteriorating neighborhoods in those towns by providing low-interest loans for home repairs to homeowners.
The focus of our program was to make health and safety, structural and energy efficient repairs affordable for homeowners in the four neighborhoods. The improvements in the "target" neighborhoods would inspire investment throughout each town.
Funding and technical support for starting the program came from Neighborhood Reinvestment Corporation (now NeighborWorks America) and from the Vermont Community Development Program. Today, both agencies are still the principal supporters for NeighborWorks of Western Vermont's home repair program.
Our service area expanded slowly in the early years to cover eventually all of Rutland, Addison and Bennington counties.
The Neighborhood Housing Services model called for Neighborhood Committees to be organized to help residents deal with local issues.
In Rutland's northwest neighborhood, our committee was instrumental in the adoption of an ordinance to divert large trucks off some of the smaller streets and in the development of a park on a trashed, vacant lot. West Rutland saw the revitalization, reinvestment and cleanup of Marble Street. Castleton improved the Hydeville strip, and the Fair Haven committee developed a park/playground on the south side of town.
To this day, we manage neighborhood projects for NeighborWorks Week such as paint-ups, community gardens, green-ups, etc., a carry-over from the early years.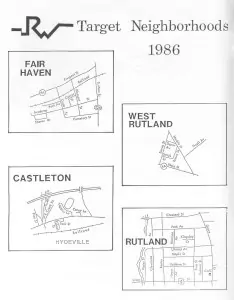 In 1987, Julia Redington became our first homeownership success, purchasing a house on Grove Street in Rutland. Julia was the first of hundreds of homebuyers to come through NeighborWorks of Western Vermont. The program evolved into what is now the Homeownership Center. Educating homebuyers was seen as the key to homeownership.
The Homeownership Center became an integral part of the Rutland West program featuring Homebuyer Education, individual counseling and financial assistance as a bridge for families to fulfill the American Dream. Today the Homeownership Center also includes the foreclosure prevention program, helping families to stay in their homes.
Fully renovated and redesigned by future NeighborWorks employees Gregg Over and Melanie Paskevich, the Kazon Dress Factory became a safe, efficient, and healthy (not to mention beautiful) facelift for Marble Street. In 2004, NeighborWorks of Western Vermont moved into their new building, and from there, it's all history.
We became a chartered — and the first
rural, member of the national
NeighborWorks America network in 1993.
Throughout the years, the one thing that has remained most consistent is the dedicated Board and Staff who keep the organization going. We have always been made up of people who care about helping people – that is the message that has always come through, and that has been the true key to success.