Down Payment Assistance Loan
NeighborWorks of Western Vermont
VT Licensed Lender #6200 NMLS #194008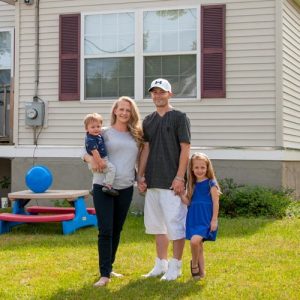 NeighborWorks of Western Vermont offers second mortgages up to $50,000 to assist with a down payment for your new home. Down Payment Assistance Loans are available to all qualified borrowers purchasing in Vermont. Rates are not guaranteed and are subject to change at any time.
Our Down Payment Assistance loan will be paired with one of our partnering lenders for up to 100% financing on your home, and you won't be charged private mortgage insurance.
To start the process, please visit one of our partnering lenders. Questions? Contact our office at 802-438-2303 and press option 2.
Save Time
Don't let having to save 20% of the purchase price of your home get in your way.
Save Money & Build Equity
Using a DPA Loan means you don't have to pay Private Mortgage Insurance (PMI) each month, which will save you money.
With a DPA Loan, your monthly payments go toward repaying what you owe – not to PMI – so that you can build equity in your home faster.
• 15-Year term
• Rate is 2% above the first mortgage rate
• No prepayment penalty
• Borrow up to $50k or 20% of purchase price, whichever is lower
• Can be paired with other products including VHFA assist and Freddie Mac Home Possible Advantage to help with down payment assistance loan
Are you interested in a Down Payment Assistance Loan?