A Rutland Rehab becomes a Dream Home!
NeighborWorks of Western Vermont's LaborWorks team has almost finished their full rehab of 120 Library Ave, Rutland, Vermont.
The two story, single family home at 120 Library Ave. was stripped to its studs and even those were replaced. The house, with a new front porch, an additional bathroom, and new, energy efficient appliances will be on the market this April.
A Floor Plan Designed to Please
The first floor now proudly features an open floor plan granting views of the backyard to the front porch from the barstools located at the eat-in kitchen island. The kitchen, dining, and living rooms flow seamlessly together while retaining their separate character.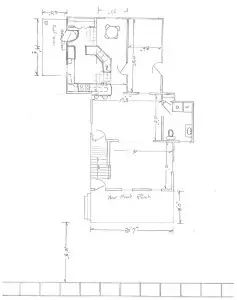 The first floor also includes a washer and dryer, a half bath, and access to the home's three porches and the cellar.
Interested in seeing more properties like this one? Make an appointment with our realtor.
Opportunity to Grow
A decorative handrail on the staircase leads from the living room to the second floor hallway, creating more open space shared between the two stories.
The second floor now includes a full bathroom (tub, shower, and vanity), two smaller bedrooms and a master bedroom, all with closets.
The modern living space sells itself. However, what's going on behind the drywall is half the appeal.
Hidden Treasure
Stripped down to the studs, the builders were able to add additional energy saving features everywhere imaginable.
"In order to get a really clean thermal bridge, we attached this one-inch insulation on the top of the studs to increase their capacity to keep the house warm. In the attic, there are 16 inches of cellulose," says Morgan Overable, one of the NeighborWorks' LaborWorks team.
"We put the sheet rock on the ceiling first so that it creates a thermal envelope so there are no punctures into it. Usually at each intersection of the wall, you would have a break in the envelope… So instead we put the sheet rock up and then put the wall to it," Overable explains.
Simply put, "this house is going to be super-efficient."
Find out how you can afford this home today! Sign up for our home buyer education course.
Reinvigorated Victorian Beauty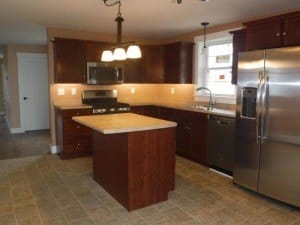 The house features an electric hot water heater and a new boiler, both energy and cost saving appliances, as well as new windows, a new roof, and new wiring.
So what's left of the original house?
"Exterior walls. Pretty much the structure," replies Overable.
Neighborhood of Choice
120 Library Ave is in Northwest Rutland, a connected residential neighborhood within walking distance of all the conveniences of Downtown.
The newly rehabbed home is located across the street from a new city greenspace, and down the road from a park being built this spring. Additionally, Pine Hill Park, Giorgetti Arena, and the Vermont Farmers Food Center are all nearby.
This property has all the perks of downtown living with quick access to the great outdoors and everything Vermonters love about our Green Mountain State. For more information about all that downtown Rutland has to offer, check out rutlanddowntown.com.
Would you like to find a home like this?
This property was acquired and rehabbed by NeighborWorks of Western Vermont with the mission to create a healthy, safe home that a working home buyer could afford.
If you've been renting for years, consider buying! Homeownership might be more affordable than you think. You could own a house like this for under $800 a month* (no, that's not a typo!).
Start investing in your own property today rather than continuing to rent at equal or greater cost. For $800 a month, how could you pass up on this rehabbed gem?
Would you like to talk to a NeighborWorks representative to learn more about the loan process? Contact us here.
Financing That Works for You
NeighborWorks of Western Vermont believes homeownership is achievable for most Vermonters, and we work with you to find affordable financing for your home, whether you're a first-time homebuyer or an experienced homeowner.
Your credit score or savings account should not prevent you from progressing toward your goal of being a homeowner. We offer home buyer education classes, as well as no-cost, one-on-one financial counseling to create a path towards homeownership for you, whatever your financial situation.
When you're ready to buy, we offer Down Payment Assistance loans to help you get over the hurdle of having saved 20% of the purchase price of the house. We can also connect you to the grants and loans you qualify for, including the Homeland Grant and VHFA's ASSIST Loan.
Make an appointment with us today to learn more about how homeownership can become a reality for you. Fill out our contact form or call us at 802-438-2303.
Take a walk through today!
Other houses will be on the market this spring. Interested homebuyers should contact NeighborWorks' realtor, Gene Felder, for more information at 802-438-2131 or [email protected].
To check out more of NeighborWorks of Western Vermont's properties for sale, click here.
* Estimate based on a 30 year fixed rate mortgage, property taxes, and insurance and enjoying the possible benefit of a Homeland grant.