What Is the Homeland Program?
The NeighborWorks Homeland program was created to establish and maintain housing for low and moderate income families while preserving the historic and aesthetic qualities of the community.
The Homeland Program has Two Main Goals:
1
To help low and moderate income buyers buy a home they otherwise could not afford.
2
To keep these homes perpetually affordable so that future low and moderate income households will be able to buy a home.
How Does Homeland Work?
Qualified buyers (income guidelines and affordability ratios) choose a home that they can afford with the assistance of a Homeland Grant supplied by Vermont Housing and Conservation Board to reduce the size of the mortgage they need.
The buyer agrees to abide by the Housing Subsidy Covenants that are placed on the property at the time of closing in return for this assistance and in the interest of keeping housing perpetually affordable.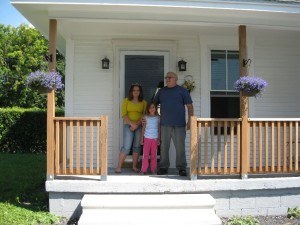 The terms of the covenants both ensure the homeowner's rights to control the property and safeguards the future affordability of the property for other low and moderate income buyers. This is done by a shared equity formula calculated upon resale of the property.
The owner is agreeing to share the market appreciation with NeighborWorks of Western Vermont by selling at what the homeowner paid for the property plus any capital improvement plus 25% of the market appreciation. The balance of the appreciated value stays with the home for future homeowners and recycles the assistance homebuyers receive.
Contact Us!
Are you interested in talking with a NeighborWorks of Western Vermont representative about homeownership, education, lending, home repair, or home energy efficiency? Contact us!