Created to Establish & Maintain Housing
for low and moderate income families
while preserving the historic & aesthetic qualities of the community
NWWVT offers 20% down payment grants to homebuyers through the Homeland Program.
The Homeland Program has Two Main Goals:
To help low and moderate income buyers buy a home they otherwise could not afford.
#2 - KEEP YOUR HOME AFFORDABLE
To keep these homes perpetually affordable so that future low and moderate income households will be able to buy a home.
To receive a homeland grant, applicants must have good credit and make no more than 120% of HUD area median income limits (income guidelines and affordability ratios). The income limits is based on household size. The applicant must also complete the Homebuyer Education course. 
Applicants must also be able to obtain a mortgage from a traditional lender that will agree to the covenants associated with this grant, such as their local bank or credit union, USDA-Rural Development, or the Vermont Housing Finance Agency.
To obtain more information about this program and the requirements, contact the HomeOwnership Director at 802-797-8607.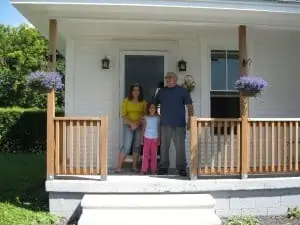 Are you interested in talking with a NeighborWorks of Western Vermont representative about homeownership, education, lending, home repair, or home energy efficiency? Contact us!