Preparing For the Future
The Winchell family of Rutland, VT is a family of four who after years of renting a small apartment, needed something bigger. A home of their own was something they had been considering and wanted to make that a reality. They started saving and working on their credit about two years ago. In 2018 they took the NeighborWorks of Western Vermont's Homebuyer Education course and completed the required one-hour financial counseling session.
It was through this class and counseling session that they met with RealtyWorks realtors, Kandace Kenney, and Gene Felder, and found out about a Homeland Grant program that could help them afford a home. They began looking for houses last winter and looked for over ten-months before finding their gem in early 2019.
Making Homeownership Possible
"The grant really made it possible for myself and family to find something that was family friendly along with being a home that was livable.  We looked for a really long time and a lot of the houses in our area are very old and run down. In order to find a house that could really become a home, a lot of work, time and money would need to go into them.  Having the grant as the down payment certainly made it so we could look at homes more move in ready."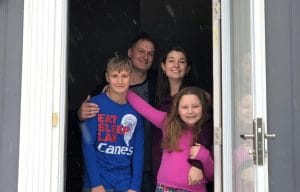 A Home of Our Own
The Winchell family moved into their new home located in Rutland in February of 2019.
"I would tell potential buyers to pursue the class and follow through with the counseling.  It's some valuable information that will help even the most unorganized house hunter.  Nancy [Nancy Gilman, NeighborWorks of Western Vermont HomeOwnership Director] and Gene were wonderful to work with."   
Owning your own home can be extremely empowering and acts as a stabilizing factor in anyone's life, from single individuals to parents, to children. If you are interested in learning more about the home buying process, check out our Homebuyer Education classes or take a look at our available properties — we'd love to help make your American Dream come true!