Our Homebuyer Education class at NeighborWorks of Western Vermont is available for all potential homebuyers in Addison, Bennington and Rutland counties. You will learn information about the homebuying and mortgage process, budgeting, credit scores, home inspections, insurance, how to work with a real estate agent, and life after closing. You have the option of taking our course in person or online, though we highly recommend taking it in person as you are able to connect with others and meet with business and services that may help you along your journey. There are six main topics that are covered in our class: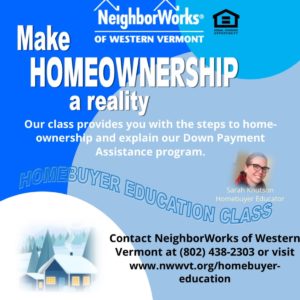 How to shop for a mortgage.
People tell us that getting through the loan process is one of the most stressful parts of buying a home. It can be, but we will walk you through the steps. You'll need to provide your lender with documentation of your income, your expenses, the source of your down payment and other financial data. It is recommended that you compare offers from at least three lenders as not all offers will be the same and you could get a better deal.
How to work with a real estate agent. 
Not only will you learn the difference between a buyer's agent and a seller's agent, we will also talk to you about buyer pit-falls and how to have your real estate agent find the right house for you.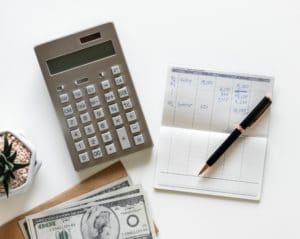 How credit scoring works.
Don't be discouraged if you have a lower credit score – part of our homebuyer education class is helping you learn about your financial status and helping you create a plan if you need to raise your credit score. A credit score is what will help determine loan terms and your qualifying status of a mortgage. A credit score is a key ingredient to the loan process and something to take seriously.
Why you need a home inspection. 
When you find a home you want to purchase, you want to make sure this home is what you think it is. While most mortgage lenders don't require a home inspection, it is still in YOUR best interest to get one. It will be at your own expense, but it can tell you if the home needs any repairs, something that could save you money in the long run. The inspection is an honest, deep dive into the home and once you find out more about the home, if there are repairs needed, you can sometimes use that to help lower the house price or get those items fixed before moving forward.
Life after closing. 
Money for the down payment is not the only cash you'll need when buying a home. You need to keep in mind "other expenses" that may occur or be necessary like a new refrigerator or washer and dryer. You should also have at least a year's worth of insurance and tax money saved in case something happens in life that causes you to be short on funds (ie: losing a job). Having those funds available to take care of those necessities will help you hold onto your home in times of crisis.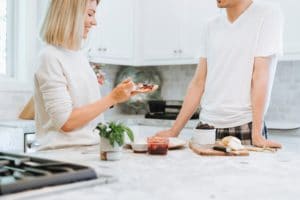 Where to find assistance. 
There are many programs out there today that offer programs, loans, or grants that can aid first-time homebuyers. Having enough money for a down payment on a home is a challenge and is often what hold potential homeowners back from making homeownership a reality. Our class gives you the information to find help and programs that could help you purchase your dream home.
If it has been many years since buying a home, or if it is the first step in your journey towards being a homeowner, this class can give you the resources and confidence to be a successful homebuyer. For more information on our classes or to see when a class is available near you, go to our Homebuyer Education page or call us at 802-438-2303.