In the New Year everybody talks about home updates, having fresh start, having happier, healthier homes, and having resolutions. Whether your home is a tiny house, apartment, 4-bedroom home, or a shared living space, there are some easy home style updates that can leave you feeling like 2019 will be a fresh new start. Some of these small changes below can be in a day or weekend and are easy and affordable.
Kitchen reminders
Most often your kitchen is the hub of all activity. Try creating a sense of organized control over your daily and weekly tasks by painting a part of your wall with chalkboard paint so you can write reminders, dinner plans, shopping lists and other notes down in plain sight. Not ready to commit to a wall with chalkboard paint? Try painting the inside of one of your kitchen cabinets.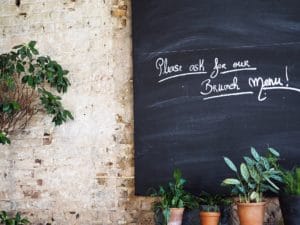 Re-paint your trim
This is a quick and cheap alternative to painting your walls but will add a nice "pop" of fresh paint and make the rooms feel brighter and cleaner in your house.
Gallery walls
These are a great way to display photos or artwork and a bright new trend is to give a dark and unused corner of a room a lift with a corner gallery. This looks especially good in bathrooms, over desks or work spaces that are near corners, and at the base of stairwells that meet a wall. The trick is to use the same color schemes or similar frames to give the look some cohesion.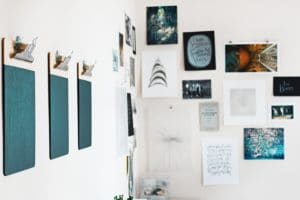 Upgrade old appliances
By upgrading old appliances, it can make a room look new and fresh. Bathrooms and kitchens are usually the most common updates, but think outside the box and consider updating furniture in the living room or light fixtures over the dining room table. Considering some appliance upgrades? Check out Efficiency Vermont to see if your products qualify for rebates: https://www.efficiencyvermont.com/rebates 
New tableware
Still using the mismatched sets from family and friends? Update your look – they say tableware is as personal as your clothes so set the standard by updating your dining dishes to something bold or perhaps a modern twist like square plates. A matching tableware set may even inspire you to up your culinary game or invite more friends over to share meals.
Bedroom makeover
Get a new bedding set that will create a nice pop of color to your room. Having matching bedding sets is also a good tip if you are considering selling your house. It gives rooms a cohesive look and says the house is "fresh" with new colors and styles.
Hang a collection
If you are the proud owner of a collection of guitars, hang them on your wall or display them on a rack. Collect old glass bottles or summer camp memorabilia? Display them on your shelves or create a space over your desk just for your collections. Seeing things that we collect, and of course love, can help boost mood levels and give your place a sense of comfort.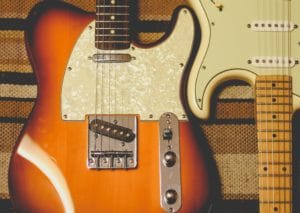 Add some green
Having house plants around you home can liven up any room as they are fun to have around a home and are affordable. Check out another one of our blog posts on the 12 Houseplants For A Healthy Home for a better idea on what plants might be the best fit for each room.
These simple tricks can help to spice up your home and give it a "new-year-new-you" vibe. NeighborWorks of Western Vermont is all things home and we want you to feel your best in a healthy and happy home! Want more tips or want to learn more about what NeighborWorks has to offer? Go to www.nwwvt.org for more information.
Author: Bailey Aines, NeighborWorks of Western Vermont part-time employee