October 30, 2017
Community Partners Collaborate to Spruce Up Baxter Street Alley
Giancola, Green Screen Graphics, The Boys and Girls Club of Rutland County, College of Saint Joseph, and NeighborWorks of Western Vermont Add Art and Light to a Neglected Space
Rutland, VT – On November 1, 2017 College of Saint Joseph volunteers will be hard at work tackling the weeds and trees that have overtaken Baxter Street Alley as a wood chipper donated by Joseph and Barbara Giancola churns them back out as mulch. Taming the alley's overgrowth is the first step in the process by Project VISION collaborators to beautify the neglected but well-traveled pathway linking Downtown to Northwest Rutland by the Vermont Farmers Food Center (Winter Farmers Market venue). It is one of many complementary pieces of public and private investment in Northwest Rutland made by all of the participating organizations.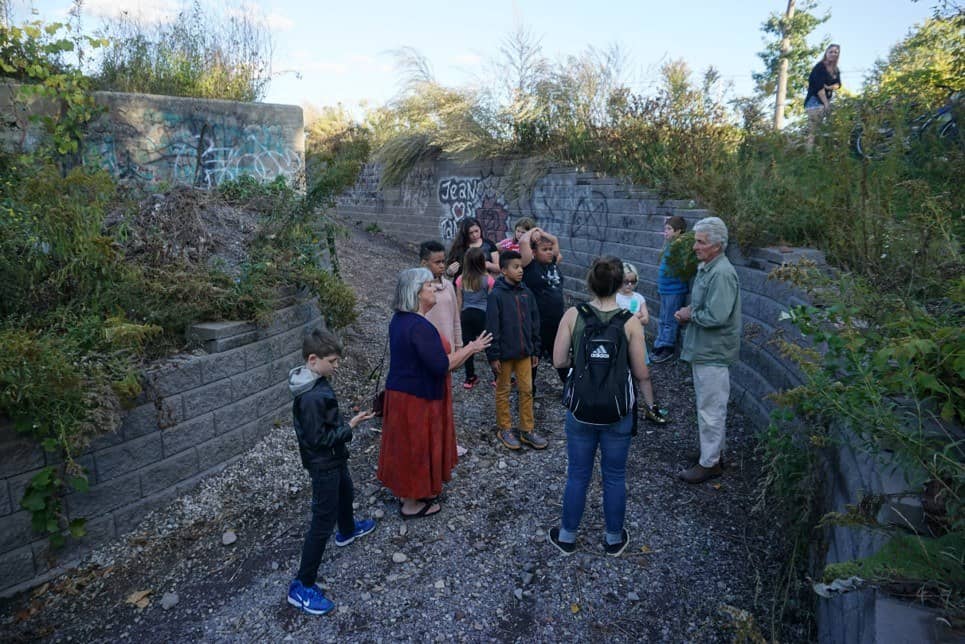 The volunteer event on November 1st sets the stage for upcoming improvements. The next steps include the addition of public art designed, created, and installed by youth at the Boys and Girls Club participating in NeighborWorks of Western Vermont's TAG initiative in late November, the installation of lights on the new greenhouses at the Vermont Farmers Food Center, and the landscaping of the mulched areas in the spring.
Baxter Street Alley serves as a vital foot, bike, and stroller path from West Street to Baxter Street. It directs pedestrian traffic on a safe route across the train tracks, but due to its out-of-site location it has been used as a hypodermic needle repository and vandalism hotspot. This collaboration of Giancola, Green Screen Graphics, The Boys and Girls Club of Rutland County, College of Saint Joseph, and NeighborWorks of Western Vermont seeks to open up the space to more light, visibility, and positivity.
The volunteer event takes place on November 1, 2017 from 1:30 – 4:30 PM at Baxter Street Alley (accessible from the Vermont Farmers Food Center parking lot or the south end of Baxter Street). NeighborWorks invites the public to bring their gardening gloves and lend a hand!
###
NeighborWorks of Western Vermont is a non-profit HomeOwnership Center serving Rutland, Addison, and Bennington counties and beyond. We are all things home. We work to help Vermonters become educated about finances and homeownership, find homes to purchase, get the loans they need to buy homes, and renovate their existing homes to make them more livable and cost-efficient. Rutland West Neighborhood Housing Services d/b/a NeighborWorks® of Western Vermont Licensed Lender #VT6200 NMLS #194008Equal Housing Lender. More information: www.nwwvt.org
FOR IMMEDIATE RELEASE
CONTACT:  Shannon Kennelly, Community Relations Director
802-797-8606 or [email protected]