KEEP READING FOR THE SECRET TO RAISING YOUR CREDIT SCORE 36 POINTS.
Ready?
… Are you sure?
The secret?
Financial coaching with NeighborWorks.
We hear from a lot of Vermonters who are hoping to raise their credit score. They've been to a lender or two and they're frustrated that their credit keeps homeownership out of reach.
We tell them that although there aren't any magic fixes, there are steps to take to improve their credit score.
If you're nodding along because it sounds like you, this is where to start: attend a Homebuyer Education class and then take advantage of our free, one-on-one financial coaching.
Our customers who follow the actions steps and guidance of our financial coach improve their credit scores, on average, 36 points.
Our Homebuyer Education course lays the foundation for our financial coaching service.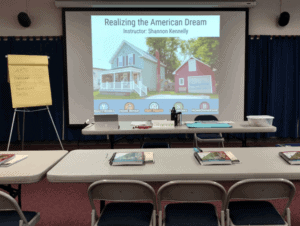 During the eight-hour class you'll learn the basics of what a credit score is, what impacts it, what improves it, and why it's important.
We steer all of our financial coaching customers through Homebuyer Education first, regardless of their financial goal, because it delivers the information in a practical, real-life application. This experience makes for a productive first coaching session.
After Homebuyer Education, you'll be able to schedule a one-on-one financial coaching session. You'll do this through Compass, our online customer portal, which will also prompt you to upload relevant documents required for the coaching session.
Sign up for a Homebuyer Education Class today!
One-on-One Financial Coaching
Compass does a lot of cool things which you can explore once you have an account, but, most importantly, it facilitates the secure transfer of your personal documents to our financial coach.
These include:
Two most recent bank statements (for all acounts)
Two most recent signed Federal Tax Returns including W-2s
Most recent paycheck stubs for last 30 days
Alimony and child support documentation (if applicable)
Proof of other household income: Social Security, 3-Squares, LIHEAP, Reach Up, etc. (if applicable)
Completed budget
Completed Pre-coaching Financial Survey
Our coach requires these documents ahead of the first appointment so that you can hit the ground running and make the most of your time together.
She'll also pull your credit report (an $18 fee) so that you can review it during the session and make action steps for improving your credit. This often includes paying past due accounts, creating a budget and sticking to it, and re-establishing credit; but, since credit is incredibly complex, each client receives customized advice for handling their credit.
If you've got your sights set on homeownership or just want to improve your credit and you're looking for some advice and guidance, sign up for Homebuyer Education today.
Credit repair takes time, dedication, restraint, and persistence, but with our financial coach at your side, it is possible.
Think about what a 36 point increase in your credit score would mean!
To learn more about the power of financial coaching even after the homebuying process, check out this blog post.
[vc_btn link="url:%2Fhomebuyer-education%2F||" title="Sign up for Homebuyer Education Course today!" color="warning" align="center"]