"Welcome to SPACE," greeted over 80 visitors Saturday evening to Rutland's newest pop up gallery, temporarily located at 116 Merchant's Row.
In what used to be a small National Guard recruiting station, 22 works of art by 13 local artists now recruits gallery visitors, and that's not including the universe window graphic designed and donated by Green Screen Graphics, which instantly catches your eye as you walk along downtown.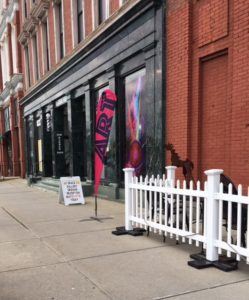 If you miss the compass to the universe, however, you'll be sure to see the flag in front of SPACE's windows. After the Castleton University Art Galleries and private artist studios had pulled in their yellow Open Studio wayfinder signs for the evening on Saturday, the bold purple and pink ART flag went up in front of the SPACE gallery.
When you see this flag up, know that we're open and come in for a visit this month; SPACE will be open to the public Monday through Friday from 12:00 pm to 5:00 pm with our current exhibition through June 23, 2017, thanks to the generosity of Green Mountain Power staff.
"Wildly successful," says AmeriCorps member and co-curator, Maggie Lambert, of the opening reception on May 27, 2017.
Throughout the evening, visitors experienced the classical guitar of musician Dave Burns and the crafted tales of local storytellers Michael Ray Kingsbury and Sam Bonosevich.
In between pop up stories and music, gallery visitors enjoyed a free dessert "pop" bar — cake pops, pop rocks, brownie poppers, fruit pops, and, of course, classic lollipops.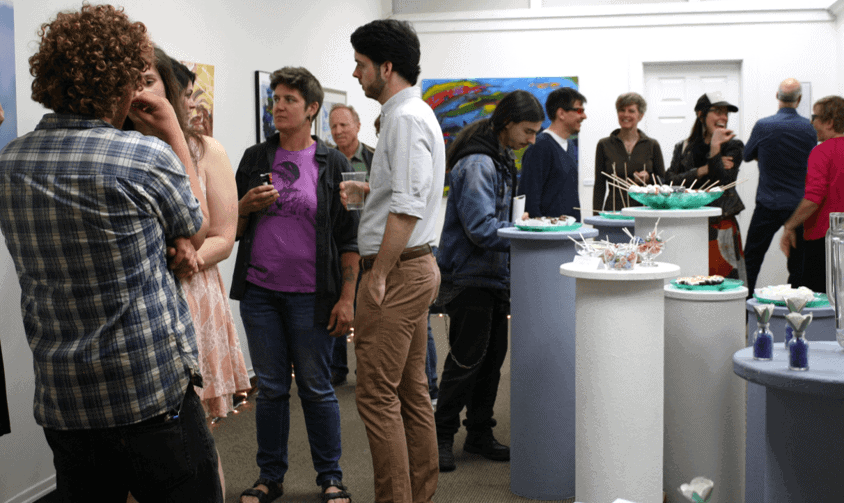 In an effort to further transport people and their Rutland Pop Up experience, SPACE's next call to artists centers on the theme: "Transportation," and more simply, "Transport."
[vc_btn title="Transport Application" color="green" align="center" link="url:http%3A%2F%2Fwww.nwwvt.org/2017/05/09/rutlands-june-pop-gallery-application/%2F||target:%20_blank|"]
"We encourage artists of any experience and professional level to submit work they understand to fit within the theme of 'Transport' — which we are interpreting extremely broadly," says Bianca Zanella, working artist and AmeriCorps member.
Liam Fagan anticipates, "I can't wait to see how our local community interprets this theme — from love letter collections to charcoal landscapes to abstract sculpture — anything can transport the viewer with enough emotion."
Once curated, the second opening reception for the "Transportation" show will be held from 7:00 to 9:00 pm on Friday, July 7, 2017. Keep up to date with our Facebook page to see where we might pop up next time, or if we'll stay in the same location.