Rutland Herald:
published Apr 3, 2016
By Staff Writer Andy Clark
andy.clark @rutlandherald.com
View Full Article Here
---
Local and state officials, leaders of community organizations, and neighborhood residents gathered Saturday to observe the afternoon groundbreaking for the newest Rutland City park in almost 30 years.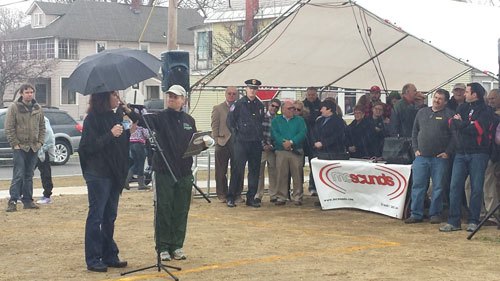 The Baxter Street Park groundbreaking ceremony was meant for all residents of the neighborhood. Dozens of souvenir hand gardening spades with the inscription "Baxter Street Park 2016" were on a table awaiting residents to use them at the key moment in the ceremony. But first, there was business to attend to.
One by one, attending officials came to the microphone to congratulate all whose collaborative efforts resulted in the improvements to come in the Library-Baxter corner lot over the next month. Mayor Christopher Louras; Mary Cohen, the former home ownership director of Neighborworks of Western Vermont and now interim director of the Rutland Region Chamber of Commerce; Cindy Wight, superintendent of recreation and parks for the city; and Board of Alderman President William Notte all spoke to the importance of the occasion.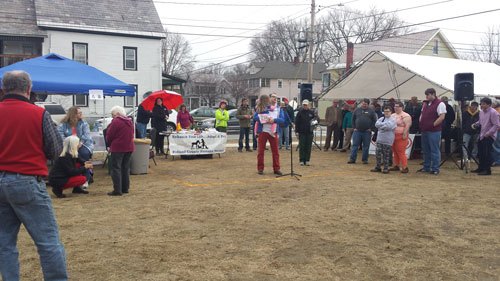 State Sen. Peg Flory established her roots "about 12 feet above where I now stand," growing up on the second-story of the building that was demolished to make way for Baxter Street Park. Commander Scott Tucker also reminisced about growing up in the neighborhood — "two doors down" — while his wife lived at 60 Baxter St. He was about to share more, but clouds had other ideas.
Unlike the last community gathering at the site — a neighborhood block party in fall 2015 — it was not sunny.
All at once on Saturday, a cloudburst interrupted plans. Tucker quipped, "if it will save typing," and then wisely closed quickly by telling everyone involved that they did a great job to acquire the property and financing for the improvements planned. Then everyone ducked for cover.
There was nothing left to do except to break ground.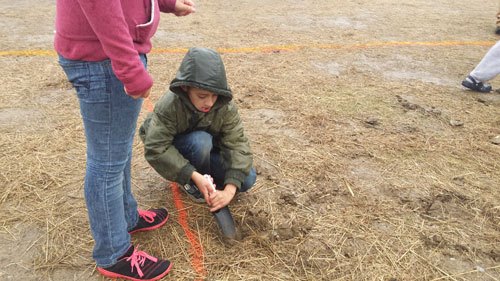 Maybe a third of the crowd of 100 grabbed garden spades and headed out of the comfort of a tent to dig a little earth about 30 feet away. They came back drenched. Some of the crowd drifted out — especially those with umbrellas.
The celebration was also an opportunity for participants to share information about progress in the Northeast Neighborhood's revitalization. Those stories were shared under the tent.
Amenities for the park would include a pavilion as protection from a similar storm — or summer sun. Rich Carlson, board president for Neighborworks of Western Vermont, said "120 Library Street, acquired with revitalization funds, is nearing completion. It's under contract for a sale." The transaction is part of the overall story of transformation for this part of the city.
Gene Felder, also with Neighborworks, said, "The money received by the city for revitalization, administered by Neighborworks, has funded four demolitions and seven rehabilitations, including 120 Library, nearly complete in rehab, 113 Library which is now an empty lot, 31 Pine Street, and 59 Baxter Street, which was jacked up in order to provide a needed new foundation."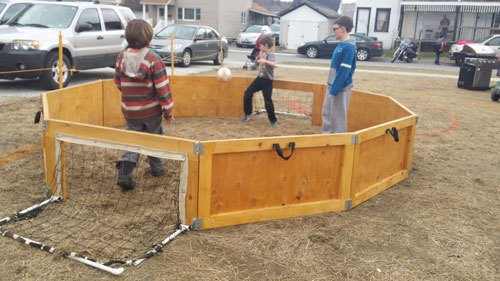 "The vast majority of funds for the development of Baxter Park are coming from donations," Wight said. "This includes about $10,000 from the Rotary Club for a permanent fence around the park. We expect the park to be complete in about 30 days, except for the permanent fence."
Bruce Wilson, who privately invested funds in rehabilitating a property on Baxter Street, is nearing completion of his efforts, according to Tucker. Wilson was cooking hot dogs despite the rain.
Tucker said a decision about use of 113 Library had not been made, "whether it is used as open space, for community gardens, or some other use."