Rutland, VT– In July 2014 with a BOOM, an excavator took off the front end of 37 Pine Street as the official opening signal to the Northwest neighborhood, kicking off the revitalization process. As the building was torn down, the police chief declared the beginning of a new era in Northwest Rutland.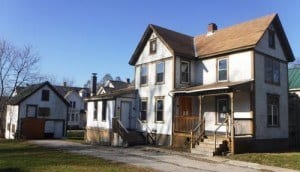 Sitting quietly by its side, the neighboring house at 39 Pine Street looked forlornly on, its beautiful stained glass windows clouded with dirt and its walkway overgrown with neglect.
A year and a half later, NeighborWorks of Western Vermont has acquired that vacant property at 39 Pine Street and is preparing it to rehabilitate it into a single-family, owner-occupied home.
Connected to it All
Located just beyond the light at the intersection of Pine and State Street, the property is only a few feet from downtown, granting the future homeowner all the benefits of downtown Rutland´s services from a conveniently walkable, residential neighborhood.
With the property next door now a city green space, this spacious two story home will be renovated by NeighborWorks' Construction Specialist Gregg Over and his LaborWorks Team into a beautiful, healthy, affordable home.
Grant Money at Work in Rutland
The house is the third property that NeighborWorks of Western Vermont will rehabilitate as the sub-grant recipient of the $1.25 million implementation grant through the Vermont Community Development Program. The grant was awarded to the City of Rutland in 2014 to improve vacant or blighted properties and to foster healthy, sustainable homeownership opportunities in Northwest Rutland.
Part of the Neighborhood
This property joins NeighborWork's four others all located within walking distance in Northwest Rutland. Those properties include 59 and 65 Baxter Street, as well as 113 and 120 Library Ave, all well into their transformations to city green spaces or single family homes.
You can check out more about these properties' progress at NeighborWork's blog.
Bringing Homeownership within Your Reach
NeighborWorks is excited about the impact the investment in Northwest Rutland is making. To nurture more, NeighborWorks offers loans to homeowners and responsible landlords that can be used for a variety of projects ranging from small exterior changes, to large scale investments.
Examples of affordable financing opportunities include:
Replacing your knob & tube wiring
Repaving your driveway
Landscaping your yard
Repairing your roof
Installing energy efficiency upgrades
[testimonial author="–A home repair loan borrower in Rutland, VT"] "Thank You NeighborWorks for being available, affordable and always professional." [/testimonial]
Decoding the Homeownership Process
Additionally, NeighborWorks empowers renters to become homeowners, offering monthly home buyer education classes and free financial counseling. For these home-buyers, NeighborWorks has financing available for acquisition and rehabilitation projects, encouraging interested home buyers to invest in their dream homes.
[callout title="" button="Sign up here" link="https://nwwvt.neighborworkscompass.org/trainingcenter" buttoncolor="orange" target="_blank"]Sign up for our Home Buyer Education course today![/callout]
Interested?
If you´re interested in learning more about 39 Pine Street or NeighborWorks´ other properties, about affordable financing options, or about our home buyer education, contact us at 802-438-2303. Learn more about our Baxter Street ground breaking here.