This October, Vermont Electric Co-op will be opening enrollment for its first community solar project  and NeighborWorks of Western Vermont will be offering financing for those interested in receiving credits towards their electric bills!
Our Energy Loan allows you to reap the savings from solar power. We structure our energy loans so that even with loan payments you are saving money from Day 1.
Vermont Electric Co-op
Vermont Electric Co-op is a not-for-profit utility located in Johnson, VT serving Addison, Caledonia, Essex, Franklin, Grand Isle, Lamoille, and Orleans counties. The new community solar array will be just south of the border- in Alburgh, VT.
Locally Owned Community Solar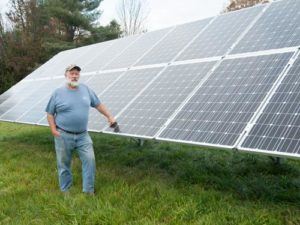 Community solar projects provide a unique opportunity to invest in solar power for those without the ability or desire to install small roof top solar arrays.
With their model, VEC members can "sponsor" a number of panels and receive monthly credits back to their electric bills.
So, invest now, lower your energy bills for the next 10 to 20 years, and support renewable energy- not a bad deal!
Sponsor One Solar Panel- or 60
You can sponsor a single panel for $234.75 and save a net total of $91.65 (a gross total of $326.40) over the next ten years, or you can sponsor up to 67 panels for $15,728.25 and save $6,140.55 over that same time period- you choose how much you want to and can invest.
Now, VEC recognizes that not all of us who would be happy to save $6,000 on our energy bills have $15,000 laying around on our couches.
That's why they've paired with us.

Save Money… and the Planet with an Energy Loan
NeighborWorks of Western Vermont's LoanWorks service offers energy loans that can be used state-wide. Our energy loans can be used for financing weatherization projects- from installing heat pumps to adding insulation- and also for renewables.
So, if:
you don't have a couple thousand in pocket change,
you're a VEC member, and
you want to support solar as well as reap the savings,
consider a LoanWorks energy loan– your loan payments will be less than your savings credits (it's really a no-brainer) and on the same bill.
We're really excited about VEC's community solar project and happy to offer a loan product that lowers the bar for participation to everyone at every income.
Interested?
You can learn more about our energy loans and fill out a pre-qualification form here!
For more questions, call LoanWorks at 802-797-8106.
If you don't live in VEC's service territory but you want to support solar, consider installing roof top solar- read more about it on our blog.