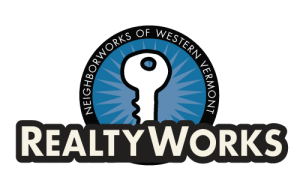 Professional Real Estate Services
NeighborWorks of Western Vermont offers a professional real estate service called RealtyWorks.
The RealtyWorks team is led by Gene Felder, an experienced Vermont Realtor, who can safely guide you through the process of buying a home.
The RealtyWorks team can help you identify properties that might fit your needs and requirements and they will connect you with resources who can help you finance and renovate your home.
Are You Currently Considering Buying a Home?
If you are currently renting a home, looking to downsize, or are a first-time home-buyer and considering buying, then this is a great organization to work with because we can help you evaluate your buying potential.
You do not need perfect credit or a huge down payment to buy a home.
If you would like more information about buying a home with RealtyWorks or would like to search for homes in the Western Vermont region, visit our RealtyWorks website.