LaborWorks
LaborWorks started as an idea to save money. For years we had been wondering: could an in-house construction crew complete renovations more cheaply?
As sub-grantees of a $1.25 Million Community Revitalization grant, we had the opportunity to test that idea.  Originally designed to be an in-house contracting crew to add to NeighborWorks of Western Vermont's one-stop-shop model for projects that weren't easy to contract out, it has now become a full-blown contracting crew that supports technical learning.
Through its LaborWorks crew, NeighborWorks of Western Vermont creates steady jobs with health care that is not commonly found in the trades. Additionally, LaborWorks focuses on continuing education and the growth of our carpenters' skill-sets. Due to our mission to strengthen the development of our regional economy, we hire based on drive and ability to learn, not on experience.
Our LaborWorks crew currently tackles our renovations in Northwest Rutland and aids our Home Repair Scattered Site and Healthy Homes programs as needed, from re-mediating bed bug infestations to building accessibility ramps.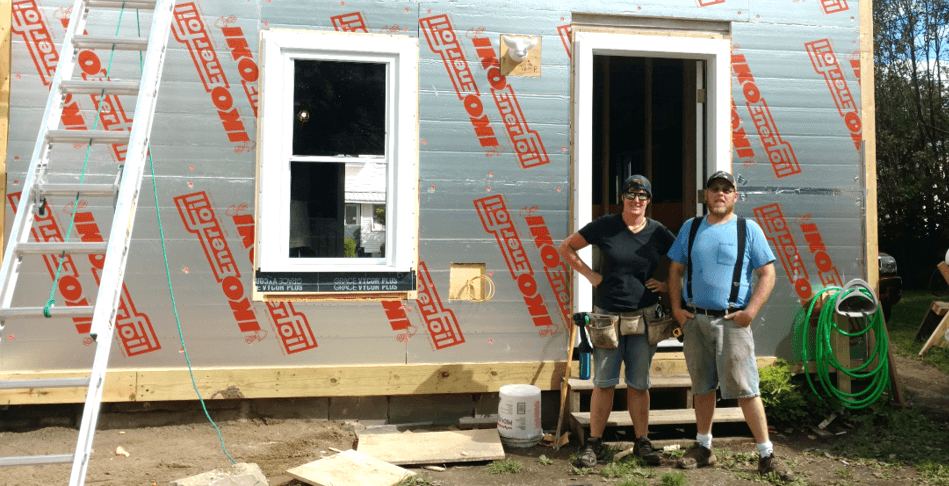 From left to right:
Morgan Over, LaborWorks' on-site project manager. Morgan designs the floorplans and makes interior design decisions on the Northwest Rutland renovations. She is also responsible for the training and technical development of the crew.  Next pictured is Ben Powell, LaborWorks' lead carpenter.
Check out LaborWorks projects:
Keep up with the crew on YouTube.