In 2017, as part of a comprehensive community revitalization strategy, NeighborWorks of Western Vermont piloted an educational program aimed at empowering women with the skills and tools to solve common home maintenance issues.
"We Can Fix It: A Home Maintenance Course for Women," designed by Morgan Over, is a hands-on, deep-dive into the household structures and mechanisms that frequently drive renters and homeowners to their wits ends.
"This course," says Morgan Over, "is designed to empower women to understand and take control of the mysterious infrastructure of their living environment. Women will develop an understanding of how their homes function and a working knowledge of the tools that every homeowner or renter should have on hand in case of something unexpected."
Over's been playing with tools since she was a toddler and working professionally in the trades for 20 years. She first conceptualized this course when she attended a Homebuyer Education Class and thought, as she looked around the room at other female heads-of-households similar to herself, "what about life after closing?"
This is a beginner level course that is open to all women. No previous knowledge of home maintenance is needed. Please come prepared with your personal home trouble-shooting stories!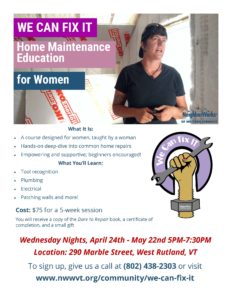 Register for We Can Fix It
IMPORTANT: You'll be prompted to create a "Compass" account when you click to reserve your spot. Create an account and answer the questions, as irrelevant as they may seem (we usually use this system for Homebuyer Education), and then you'll be able to login, go to the "Training Center" tab, and register and pay for the We Can Fix It course.
"Having finally found a moment to breathe between all of my fix it projects, I just want to give a huge shout out to Morgan, her We Can Fix It class and the transformative results it has garnered. I say with pride and accomplishment: all traps cleaned, fuse box located and labelled, no more dripping shower head, furnace filter located and cleaned off, hot water heater located and main water shut off valve located. Sometimes just knowing where everything is, is the end in and of itself! Thank you Morgan for teaching, modeling, transforming and EMPOWERING!"
  – Katie McMurray, Rutland
We Can Fix It will cover:
Tool education and vocabulary
Tool recognition
What every home should have
Wielding them appropriately
Plumbing and water system
What is my water source
Public vs private sewer systems
Drains, clogs and faucets
Electricity
Electrical panels and fuse boxes
Switches and outlets
Lamps and fixtures
General home safety
Smoke detectors and fire safety
Security
Safety measures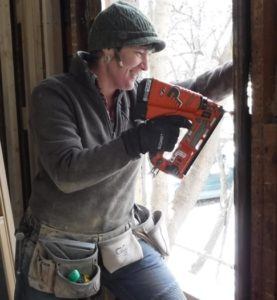 Windows, walls and doors
Door hinges, knobs, handles and locks
Patching the wall
Window maintenance
In order to secure funding that will allow us to continue offering this course, we will be asking all participants to take pre- and post-class surveys, to sign release forms that allow us to photograph and film them, and following up with participants after a year.
With any questions, please email the course educator, Morgan Over.