Everyday Chef
Everyday Chef began as a program with RAFFL, in which the Coordinator and Educator would hold cooking workshops that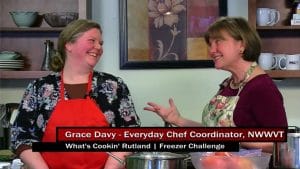 focused on improving knowledge and skills in the kitchen while meeting students at their level. You only have a microwave to cook in? No problem! In the past year (2017), Everyday Chef educated 1,035 individuals through 71 different workshops.
With the dissolution of its parent organization, the Everyday Chef Program partnered with NeighborWorks of Western Vermont in 2018. NeighborWorks worked with the Everyday Chef Program Coordinator and Educator to create a self-sustaining community program. With help from a generous grant received from the Vermont Community Foundation's Hills and Hollows Fund, Everyday Chef became available to the community to educate groups, organizations, and individuals about healthy eating and cooking.
Everyday Chef aims to get folks involved in buying local food, and therefore each workshop will incorporate as many local ingredients as possible. Through this, students are encouraged to support their neighboring farms by treating themselves to fresh, local vegetables! The program also covers scratch cooking hacks to help students find ways to create fast, nutritious meals that are a snap to create.
What to Expect
The Everyday Chef Coordinator and Educator welcomes and introduces participants to the ingredients, utensils, and cooking space. After reviewing the recipe and a knife safety skills demo, participants take ownership of the creation of their food. Participants are encouraged to experiment, ask questions, and have fun while they taste new ingredients and try new skills. At the end of the workshop, participants can sink their teeth into the final product and enjoy the fruits of their labor.
Hosting Everyday Chef
The Everyday Chef Program is intended for companies, organizations, or groups with 5-15 participants interested in attending the workshop. Workshops range from 1 to 1.5 hours in length. Your business or organization can host the Everyday Chef Program by paying a single fee that will cover the cost of the class, as well as the ingredients being used. Price may vary, so please contact the Coordinator and Educator at [email protected] to discuss the workshop fee. Everyday Chef is meant to meet people where they are at, so no cooking skills are necessary, nor is a kitchen—the workshop can always show you how to make a tasty meal in a microwave or on a hot plate.
If you are interested in hosting a workshop, you can contact the Everyday Chef Program Coordinator and Educator, Grace Davy at [email protected]. She will schedule a day and time with you, discuss the workshop plans and pricing, and will bring all equipment and food items!