Congratulations, Ludy!
We aren't saying goodbye, just "so long" to our wonderful leader of NeighborWorks of Western Vermont, Ludy Biddle. As we make this monumentous transition to new leadership, we have taken some time to share how much Ludy has meant to this organization and beyond. Her talent for running with wild ideas, thinking big, and keeping the community needs at the forefront of any project has propelled this organization over the past 20-years and we all wish her well in her next chapter of life.
Thank you, Ludy!
Your steadfast advocacy for homeownership and healthy, safe, and efficient homes for Vermonters have helped thousands of low to moderate-income Vermonters and we are all proud to have worked alongside you!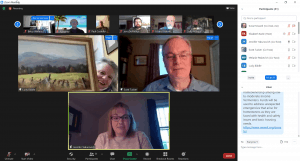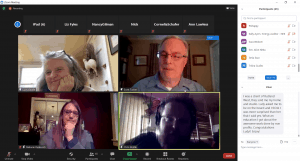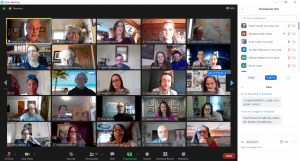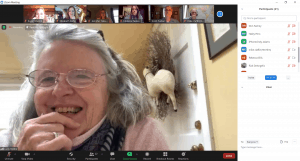 Zoom Party Highlights!
One of (so many) Ludy's favorite sayings is "why have a meeting when you can throw a party" and that is just what we did. While COVID may have kept us all apart physically, we celebrated Ludy with a Zoom Tribute Party where friends far and wide (we counted at least 11 states represented) came together to toast her success, wish her well, tell stories of our time together, and to present Ludy with a few momentoes of recognition.
Did you miss the Zoom Retirement Party? Click HERE to watch a recording of our time together!
Letters from Bernie Sanders, Senator Patrick Leahy, Representative Peter Welch, Joe Krauss, Jim Baker, and a resolution from the Town of West Rutland as well as one from our Local Delegation were all presented to Ludy during the event.
Thanks For The Memories!
NWWVT staff, board members, community partners, NeighborWorks America staff, family, and friends of Ludy came together with videos and photos to create a tribute video. This video was played during the Zoom party and just shows how many lives Ludy has touched! We captured some of those stories and well-wishes in the Zoom chat and wanted to share a selection of those quotes.
Watch the Tribute Video staff, board members, community partners, friends, and family put together for her:   Short Tribute Video      Full-Length Tribute Video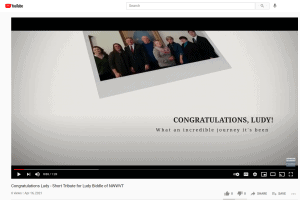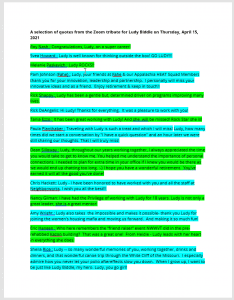 View the Chat from Ludy's zoom party    
Ludy Biddle…Honoring Her Many Accomplishments!
Awards: Ludy received a number of awards for her work, including the prestigious National NeighborWorks Association Lifetime Achievement Award for her 9 year service on the board, and NeighborWorks America Homeownership Steering Committee Award. In 2005, Ludy participated in the Vermont Leadership Institute – Snelling Center for Government. Ludy is an NeighborWorks America Achieving Excellence graduate and she participated in an NeighborWorks America collaboration with Harvard University's Kennedy School of Government.  In 2016 Ludy was an awardee of the Clinton Global Initiative.  2016-2018 Ludy was part of the Federal Reserve Bank of Boston New England Community Development Advisory Council.  She was appointed by Governor Phil Scott to the VT Housing Council.
Accomplishments:
Ludy was instrumental in the Northwest Rutland Neighborhood Revitalization project, funded through the Vermont Community Development Program to stem the decline in property values and perceptions in the 10 block neighborhood that was experiencing abandoned and blighted properties and developing a negative reputation.  This project resulted in seven fully rehabbed single-family homes, four buildings removed to become parks and green spaces, increased property values, improved tax revenues, and return of pride and confidence to the northwest neighborhood.
In September 2010, the energy efficiency program HEAT Squad was established by Ludy with a significant US Department of Energy federal grant and has since helped over 5,000 Vermonters with energy audits, and over 2,000 with home weatherization.  HEAT Squad initially served only Rutland county residents, subsequently expanding to five counties by 2014, and eight counties by 2018.  In 2017, HEAT Squad expanded its reach to include nine counties in western Kentucky.   Her passion and drive to provide access to energy efficiency for all Vermonters especially low to moderate-income households have earned her statewide and national recognition.
Ludy successfully launched a small-scale rental unit repair pilot program in Bennington helping to invest in vacant, blighted properties to bring safe and healthy rental units on line for low-income Vermonters.  This pilot program inspired a state-wide effort to establish a rental unit repair program addressing the old Vermont housing stock, bringing these properties back to life, providing safe housing for families in need, and an affordable place to live.
Ludy's Legacy:
Ludy has dedicated 20 years to addressing the need for affordable, healthy, safe, efficient housing for all Vermonters, especially low to moderate-income households. Ludy is a pioneer, advocate, visionary, compassionate leader, and good friend to many.
The Ludy Biddle Fund promotes safe and healthy homeownership among low-to-moderate income Vermonters. Funds will be used to address unexpected emergencies that arise for homeowners as they are faced with health and safety issues and basic housing needs. 
To donate, visit our donation page.