Protecting our health and the health of those around us is top of mind. Now more than ever, many are looking to natural cleaning products that can keep their home and family safe and healthy. Natural cleaning products tend to have fewer chemicals and harsh components and also have fewer overall ingredients making them easy to create at home. Did you know that you can get rid of those coffee stains in your mugs with a mixture of equal parts vinegar and baking soda? Here are some of the top home cleaners you can make (and some you can purchase) that you can use to keep your home clean and healthy this spring! 
Cleaners You Can Make:
All-Purpose Cleaner: 
¾ cup of hydrogen peroxide

½ cup of distilled white vinegar

1 teaspoon of unscented, liquid castile soap

10 drops of tea tree oil

20 drops of lavender essential oil

2 cups of water
Put everything in a 24-ounce spray bottle and shake. Use this in the bathroom, kitchen, and other main traffic areas of your home. Note, not a good window or glass cleaner as the soap and oils tend to leave streaks. 
Tough Scrub
Equal parts baking soda and vinegar can be used in a paste-like cleaner to scrub pots and pans with baked-on residue. It also scrubs away tough stains from coffee mugs, teacups, and the dark stains on your cookie sheets!
Air Freshener:
3 cups of water

1 cup of vodka

10-20 drops of essential oil (some popular ones include lavender, orange, grapefruit, or cinnamon) 
This one is fairly simple. Put it a 24-ounce spray bottle and spritz into the air when you need it. Vodka contains ethyl alcohol, a common ingredient in air freshener, any brand will work so safe money and buy a cheaper brand. 
Glass Cleaner:
2 cups of water 

¼ cup distilled white vinegar

1 teaspoon of dish soap 
Put it in a 24-ounce spray bottle and shake until combined. Use it on windows, glass-front and glass-top appliances, and mirrors.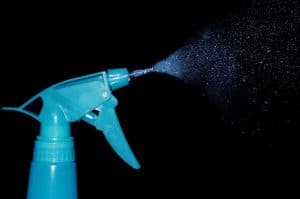 Carpet Stain Remover:
¼ cup of table salt

¼ cup of white vinegar

¼ cup of borax powder
Mix everything into a paste and apply it on a stain. Let it dry for 24 hours and vacuum it up. It will kill bacteria and deodorize while removing the stain. After you vacuum, clean the area with water. Pat the area with a dry cloth to soak up the water and anything left of the stain. It is always best to test carpet cleaners in a somewhat hidden place first. 
Good Natural Store-Bought Cleaners:
Dr. Bronner's Sal Suds Biodegradable Cleaner: It is basically a liquid castile soap that cleans dishes, floors, even your car; and is also gentle and does not irritate your skin. 

Mrs. Meyers Clean Day Basil Scent Multi-Surface Everyday Cleaner: It is made with plant-derived ingredients and essential oils. It smells amazing and it is gentle enough to not irritate skin. 

Krud Kutter Original Concentrated Cleaner Degreaser: It will clean greasy stoves and countertops. It is also water-based and nontoxic making it is safe for kids, pets, and the environment in general. 

White House Foods Cleaning Vinegar: This cleaner is for your floors. Vinegar is the best for cleaning floors (unless they are stone!) and comes in scents like lavender. 

Ecover Zero Dish Soap: This soap is natural and is tough on the dirty dishes but gentle on the skin.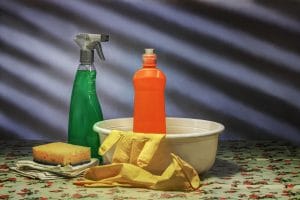 No matter what the reason, using more natural cleaning products are the way to go. Not only does this help the environment but it helps keep your home and family healthier. Sometimes simplicity is key and these recipes are sure to inspire you to clean your home naturally. Spring is the best time of year to give your home a good scrub, so why not experiment with some new cleaning products! 
Author: Bailey Aines, part-time NWWVT employee.