As we all stay home and stay safe during this pandemic, we are doing our best to support daily needs in our communities as well as continue to provide our services to our customers. Our staff here at NeighborWorks of Western Vermont is continuing to provide the services that homebuyers and homeowners have come to expect from us and also lending a hand to those in need. Read on to hear how our staff is helping and how you can help, too! Remember, stay home and stay safe as much as you can. However, if you are not high risk, there are some volunteer opportunities you could help with outside of your home as long as you follow strict personal protection guidelines.
NWWVT Staff:
As families who may already be food-insecure are struggling to eat, local food shelves are equally struggling to keep up as food supplies and volunteers dwindle. Several members of our NWWVT staff have made food and monetary donations to their local food shelves (including pet food supplies).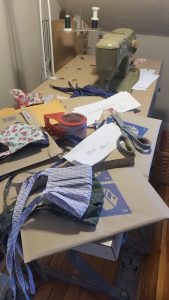 One staff member who enjoys sewing has been making masks for her fellow staff members and for community members. In her home town area, a gear triage sewing center was set up on the empty floor of their arts center building. Volunteers have been sewing masks and gowns since late March. While this triage center was nearby, others were encouraged to make masks at home, something that as a quilter and bonafide fabric aficionado, our NEK staff member was happy to do!
Another staff member started a "donation chain" to get much-needed supplies to her local hospital. Using Facebook and making a few calls, she was able to get volunteers and donations of disposable gloves, hazmat style suites, N-95 masks, HEPA masks, boot covers, and other personal protection items. Volunteers helped box up the items and deliver them to the hospital drop-off center. Our staff member said, "it was a successful mission and it felt good to be able to do a little something to help."
How You Can Help:
Shopping for Seniors
Southern Vermont Council on Aging's new grocery shopping service to support older Vermonters during the COVID-19 pandemic has grown exponentially in a short time, and they are looking for more volunteers to help out. Volunteers can shop when they can – helping with this critical service for older Vermonters in our area to get the groceries and supplies they need. To volunteer, call SVCOA at 786-5990 and ask for Ellen Green.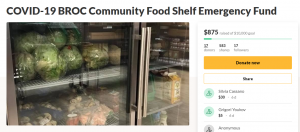 Community Food Shelf
The local BROC office may be closed to the public but they are still feeding hungry community members and need your help. They have set up a go-fund-me page where you can donate to their BROC Community Food Shelf.
The Rutland Community Cupboard is another local food shelf that is always looking for donations.
For a list of local food pantries near you in Vermont, click here.
Donating Supplies to Local Hospitals
There is a severe shortage of personal protective equipment (PPE) for doctors, nurses, and other medical personnel. NeighborWorks of Western Vermont was happy to donate a supply of masks and latex gloves, their local healthcare system. If you have similar items that you'd like to donate, contact your local hospital or clinic.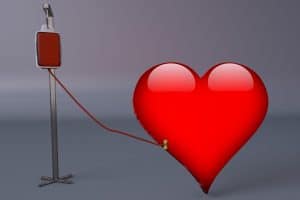 Giving Blood
The coronavirus pandemic has led to a critical shortage of blood across the country. Donating blood is safe and can literally save lives. If you're healthy, schedule an appointment to donate blood through the American Red Cross or your local blood center.
Completing the Census
If you haven't already, please complete your 2020 Census survey today. It's easy to complete online or by phone, and it has an enormous impact on the resources that are available to our community.