Every homeowner needs a toolset. It doesn't have to be made up of a lot of tools, or even fancy tools, but there are some that are definitely must-haves. Don't think of these tools as things you would need for "projects" but for everyday life. Have family pictures you want to hang? Need to change a lightbulb? How about wanting to change out your light switch cover? Planning on buying a new couch? You'll need one of our essential tools for each of those everyday tasks. We asked our Home Repair Coordinator and our general staff members for their favorite tools and here is the list of the most basic essentials that every homeowner should have.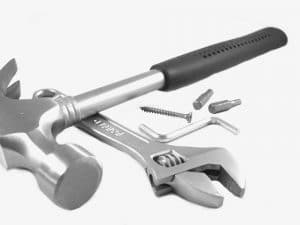 Everyday Essentials:
Hammer– choose a hammer that is the right size and weight for you. You should be able to swing it without any difficulties. A good hammer will cost you around $8-$12 but last you a lifetime. Hammers with a more curved claw rather than the straighter claws can both fasten and pull nails and is something our staff prefers.
Screwdriver– buy a screwdriver set that has at least four screwdrivers and has comfortable handles. The set at the very least should include a small and large Philips (star-shaped tip) and a large and small flathead. A larger set in its own box with a variety of sizes in both Philips and flathead is a nice thing to have and shouldn't cost you more than $20.
Needle-Nose Pliers– these are long pliers that are great for reaching into small spaces and for snipping wire. A good one will cost somewhere around $30 but they are indispensable when trying to do anything that your fingertips are too big, bulky, or weak to get a grip on. They can hold nails so you don't smack your fingertips, reach into drains, pry apart small chain links, and a multitude of other small tasks. Take time to find a nice pair with good secure handles that won't slip.
Tape Measure– you're going to need a tape measure if you are getting new furniture or measuring a room. Get a good one that has 25-foot recoil, big easy-to-read numbers, and has a lock. Dewalt, Klein, and Stanley are good brands to look at.
Utility Knife– also called a fixed blade knife, is a heavy-duty cutting tool that can be used for many things like cutting through plastic wrapping and sheetrock. They are great for opening cardboard packages, cutting cord, twine or plastic strapping. This multipurpose knife is also good for any home craft projects or tracing out wallpaper.
Step Stools – are super helpful for so many reasons. Do you have any hard-to-reach areas in your home? A step stool will make your life so much easier whether you are putting dishes away, changing a lightbulb, or just trying to reach your ceiling fans to dust them.
Duct Tape– this one is simple, duct tape fixes everything! Use it around the house for quick fixes, or hey, even craft projects since it now comes in a multitude of colors!
Flashlight– nothing beats a GOOD flashlight. From power outages to searching under the couch for Fido's lost toys, a flashlight is a must-have tool for sure! Spend a little extra and get a few good flashlights to leave in key spots around your home. One with a magnetic strip is perfect to stick on the side of your fridge in the kitchen or on a powerbox in the garage or basement for when the power goes out.
Adjustable Wrench – these are great for a bunch of reasons, just a quick twist can help get a stuck lug nut off, tighten connections, and stop a dripping faucet.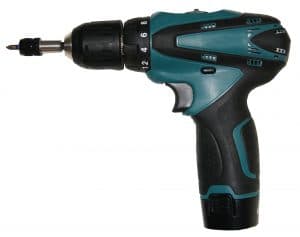 Additional Tools:
Below are some of the "extra" tools that you might find useful, especially when doing any home renovations. These tools tend to be more expensive and you won't necessarily use them a lot, but they do come in handy!
Stud Finder– this helps you find framing studs in the wall, a useful thing when you want to hang heavy objects like a flat-screen TV or wall art.
Cordless Drill– these are super easier to use and faster than your average screwdriver. Several staff members purchased them thinking they would never use them but then discovered just how often they use it around their home.
Ratchet and Socket Set– this helps you assemble things way faster, like a playset for example. If you own a lawnmower or any yard or farm tools or machines, this set will help you effortlessly tighten or loosen a stuck nut or bolt.
Jigsaw– this is a must-have for any at-home workshop or for someone who wants to be handier around the home. Jigsaws can cut wood, plywood, plastic, metal and ceramic tile and can help you do a host of DIY projects.
Palm Sander– this will make your wood projects much easier; you won't have to spend hours sanding by hand. For those interested in restoring or building furniture, resanding small areas of wood flooring, and other wood projects, this is a great tool to have!
Every homeowner needs some tools, whether it's just a basic set or some more skilled and expensive ones. Everyday tools are just that, tools you'll find you use more often than you think. As you grow as a homeowner, you'll find some things are used more often than others and you may find yourself adding more to your toolbox. For bigger projects that may be beyond your skill or desire to tackle, our Home Repair Coordinator is always willing to evaluate, help plan, and coordinate things for you!
Author: Bailey Aines, part-time NeighborWorks of Western Vermont employee.