Community Impact Survey
From Saturday, June 1st through Saturday, June 8th, Volunteers from the local community as well as staff and board members from NeighborWorks of Western Vermont will be going door-to-door in the Northwest neighborhood, asking residents to let their voices be heard by participating in a survey about their community.
This the third time NeighborWorks will be administering this survey in the Northwest neighborhood, the first time in 2013 and again in 2016.  The first survey was in conjunction with the creation of Rutland's Project VISION.
The questions are confidential and explore all aspects of neighborhood life to find out how the residents feel about the neighborhood and what they'd like to see improved. The questions cover community involvement, neighborliness, general feelings of safety and security, growth, and the desire or ability to buy a house in the neighborhood.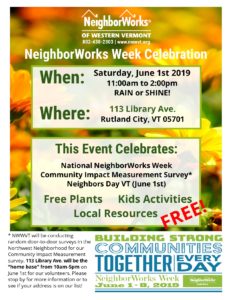 NeighborWorks Week
To kick-off the survey, on Saturday, June 1st from 11AM-2PM, NeighborWorks is hosting a community event in the Northwest neighborhood celebrating National NeighborWorks Week held at 113 Library Ave., in Rutland. There will be informational booths from local organizations including BROC, NewStory Center, SVCOA, and Rutland Head Start among others. This event is family-friendly with many kids' activities and is a chance for all Northwest neighborhood residents to fill out the survey. Event is free and open to the public and is rain or shine.
Volunteers will be in the neighborhood door-knocking on Saturday, June 1st from 10AM-5PM, and over the next week. For more information or for interest in volunteering in going door-to-door, contact [email protected]
Want to fill out the survey online? Go to https://bit.ly/2LBNV5j