Wondering what to do in Rutland this winter?
Dreading the cold and dark winter days?
Planning on hunkering down and watching movies until the spring?
'Tis the season for snowy activities like skiing and snowboarding, but there's so much else to do this winter. We've compiled a list of Rutland activities that will appeal to everyone in the family, from toddlers to visiting college students to grandparents.
We're sharing some of the best activities and events that Rutland has to offer—twelve things that you won't want to miss!
1. Trivia & Games Nights
Black Moon Games in Rutland is hosting free board game nights every Wednesday from 6PM to 9PM. Bring your favorite game, or choose from what Black Moon Games has to offer! This is a great event for both adults and children.[/et_pb_text][et_pb_image src="https://www.nwwvt.org/wp-content/uploads/2017/11/board-game-night.jpg" _builder_version="4.2.1″][/et_pb_image][et_pb_text _builder_version="4.2.1″]Right down the road, the Center Street Alley pub offers home made Trivia for teams every Tuesday night starting at 8 PM!
Grab some friends, get a drink, eat some free popcorn, and play along for a hilarious evening that ends with prizes. Pro-tip: Make sure to brainstorm a punny team name beforehand!
2. Paint & Sip
Are you interested in painting, but would prefer to be a little tipsy while doing it? Then a paint & sip is the right activity for you!
Paint & sips involve learning to paint something winter-themed for the season, and getting to drink your alcohol of choice while doing it.
This year, Rutland Country Club is hosting a paint & sip on December 7th from 6PM to 9PM. The rate is $30 per person, with food and drinks available for purchase. To secure yourself a spot, simply e-mail [email protected].
And if you aren't able to make a reservation there, don't worry—there is another paint & sip available that night at The Draught Room from 6PM to 8:30PM! This activity is not artist-exclusive, beginners are completely welcomed and encouraged—it's all about the fun you can have while doing it.
3. Santa Train
A little something for the kids, 2017's Santa Train will be on December 2nd.
Departing from the Amtrak station in Rutland, the Santa Train will take you on a 45 minute ride through Santa's Village and will include refreshments, songs, and stories to light up your imagination!
The train will depart at 10AM, 12PM, 1:30PM, 3PM, and 4:30PM. A great activity for the whole family, be sure to grab your tickets by clicking here.
4. Ice Skating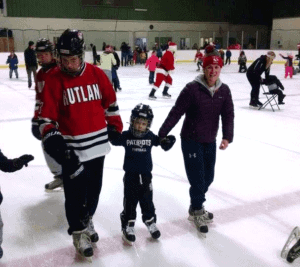 There is no activity that screams "winter" more than ice skating. Whether you're an expert figure skater or a total beginner, there's a place on the rink for you!
Visit Giorgetti Arena for ice skating in Rutland this year. They offer free skate on Saturdays from 12PM-1PM, as well as a public skate for a low fee during the week—just check out their website to see the schedule!
You can bring your own skates, but there are also rental skates available if you don't have your own pair.
5. Theater
Sure, there are always shows going on throughout the year, but the holiday season brings some great classics to the stage.
Check out A Christmas Carol put on by Shakespeare on Main Street on December 16th at 7:30 PM. If you miss that showing, they have an additional Sunday matinee on December 17th at 2:30 at the Wallingford Town Hall.
Also on December 17th, the Paramount is featuring The Nutcracker at both 1PM and 6PM.
At the end of the week, be sure to catch the Rutland Youth Theater's performance of Mary Poppins on December 22nd at 7PM or December 23rd at 2PM and 7PM.
These are some shows you don't want to miss out on this winter! (All tickets available through the Paramount).
 6. Movies
Sometimes it is nicer to stay warm indoors than being out in the cold. But that doesn't have to mean staying home on your couch!
For those who want to get comfy watching a movie, the Paramount is offering free holiday movies on Saturdays at 7PM from December 4th to December 18th.
This year's lineup includes A Christmas Story, Elf, and National Lampoons Christmas Vacation.
Bring your loved ones to one of these features for a great night!
7. Learn something new
There's always time to learn some new tricks, no matter the season.
This winter, the Rutland Rec is hosting a number of great classes:
Learn to Play Guitar: If you're musically inclined, they're offering beginner and intermediate guitar classes.
Cooking: Or maybe you'd like to learn to cook? There are numerous classes to take with RAFFL's everyday chef, including a holiday side dishes course, a breakfast course, and a sweets & savories course.
Arts & Crafts: The Rec even has crafts courses for those who are interested in creating something—maybe even as a gift or decoration for the holidays! Their current offerings range from jewelry making to working with clay and pottery.
There really is something for everyone. To check out the dates and rates of any of these courses, visit here to view their winter event guide.
In the spirit of learning, why not sign up for our Homebuyer Education Class?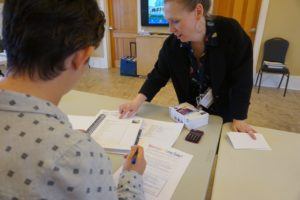 Use the short, dark days this winter to make your dream of BBQing in the backyard of your own home a reality next summer.
The classes are offered in-person and online and offer you the connections, resources, and insider knowledge to help you on your path to homeownership. Check out the schedule here.
8. Holiday Fair
The Vermont Farmers Market is putting on its Christmas Holiday Fair this year on December 16th, from 9AM to 5PM at the Holiday Inn in Rutland.
Visit to check out both great food and great gifts for the family! Visit here to see a list of this year's vendors.[/et_pb_text][et_pb_image src="https://www.nwwvt.org/wp-content/uploads/2017/11/Picture2-1.jpg" _builder_version="4.2.1″][/et_pb_image][et_pb_text _builder_version="4.2.1″ hover_enabled="0″]
9. Give back
If you want to give a little this holiday season, BROC is putting on its annual Toys under the Tree community action fundraiser on December 9th from 10AM to 2PM at the Diamond Run Mall.
There will be donation bins to collect toys for children who are less fortunate this year, although cash donations are also accepted. This year's theme is Star Wars, so bring your favorite little storm troopers by to get photos with costumed characters and a themed basket raffle!
10. Holiday Mixer
The United Way of Rutland County is hosting this year's Holiday Mixer at the Rutland Country Club on November 30th from 5:30PM to 7:30PM. There will be a cash bar, live entertainment, as well as a silent auction.
All proceeds go to the United Way, which is a social services agency focused on solving community needs affecting families and children.
11. New Year's Eve Party
Something for the adults in the family, Hide-A-Way Tavern is hosting a New Year's Eve party from 8PM to 2AM.
Join them for a travel through time in music—they'll be playing 80s music at 9PM, 90s music at 10PM, and 2000s music at 11PM until it's time to welcome in the New Year—and its modern music!
Food and drinks will be available for purchase throughout the night, but be prepared for it to be a bit crowded!
12. Winter Fest
An exciting annual event in Rutland, this year's Winter Fest takes place from February 19th to February 23rd.[/et_pb_text][et_pb_image src="https://www.nwwvt.org/wp-content/uploads/2017/11/snow-sculpting.jpg" _builder_version="4.2.1″][/et_pb_image][et_pb_text _builder_version="4.2.1″]There are a number of winter themed activities and events including the Friday Night Community Skate, a snow sculpture contest, snowshoeing, night sledding, cross country skiing, horse-drawn carriage rides, and much more—the list goes on and on. It's a great way to get active this winter along with the rest of the community, with a wide range of activities for just about anyone!
There are, of course, even more events going on this winter, so if you're interested in what else Rutland has to offer, I'd recommend checking out the Rutland Rec's website as well as simply searching for "events near me" on Facebook, as more nightly events are sure to pop up closer to the date later in the winter.
Stay warm, stay safe, and have fun!