Looking to sign up for Homebuyer Education?
Let us walk you through the process!
We have a safe and simple system called Compass that allows you to register for classes, communicate with our staff, securely share personal documents, and track your finances.
To sign up for Homebuyer Education, you'll be prompted to create a Compass profile. It is a little cumbersome upfront, but trust us, it's much faster and convenient than registering by phone.
Here's our step-by-step guide to creating an account on Compass and registering for the Homebuyer Education Class of your choice.
Step 1: Get to Compass
This can be found on our homepage (nwwvt.org) by scrolling down until you see "New Customers."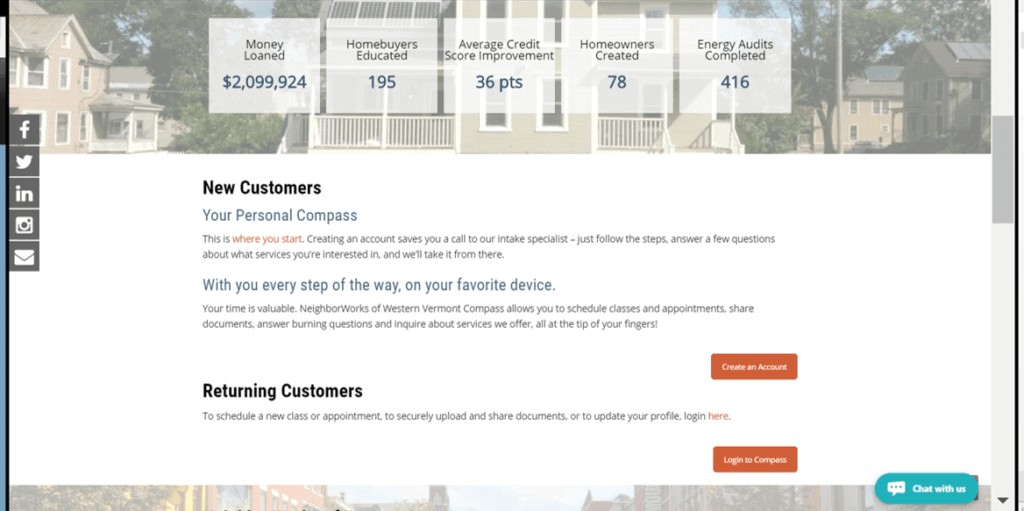 Step 2: Create an Account
The "Create an Account" button will take you to our sign-up page, which will ask you basic information about yourself and where you are in the homebuying process.
Fill out this information, click "Continue," fill out the information on the following page (see next two images), and then click "Create Account."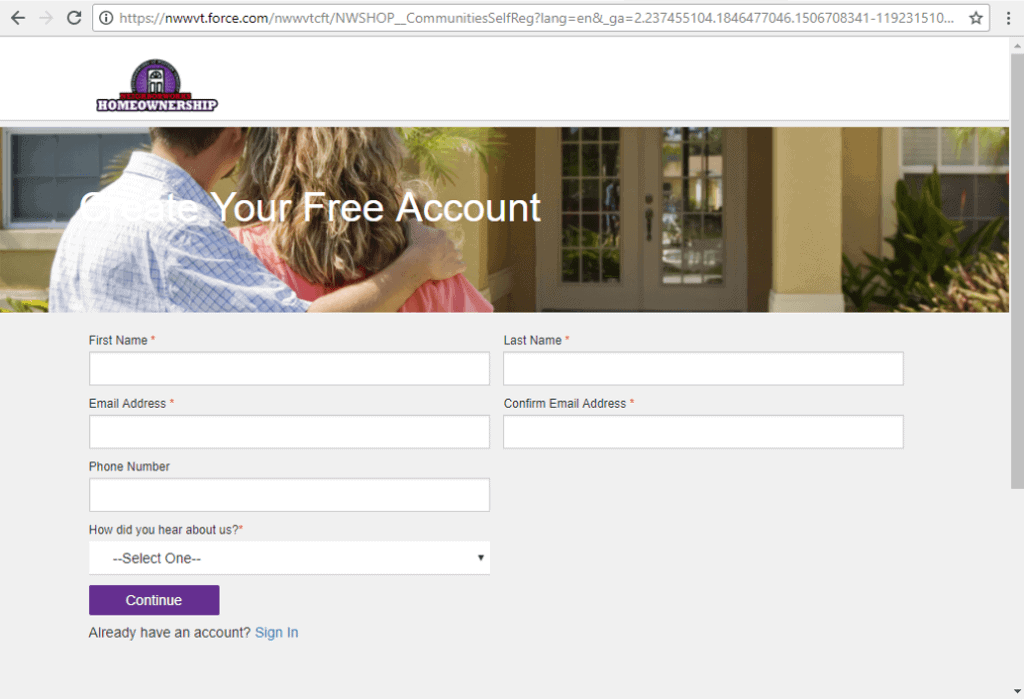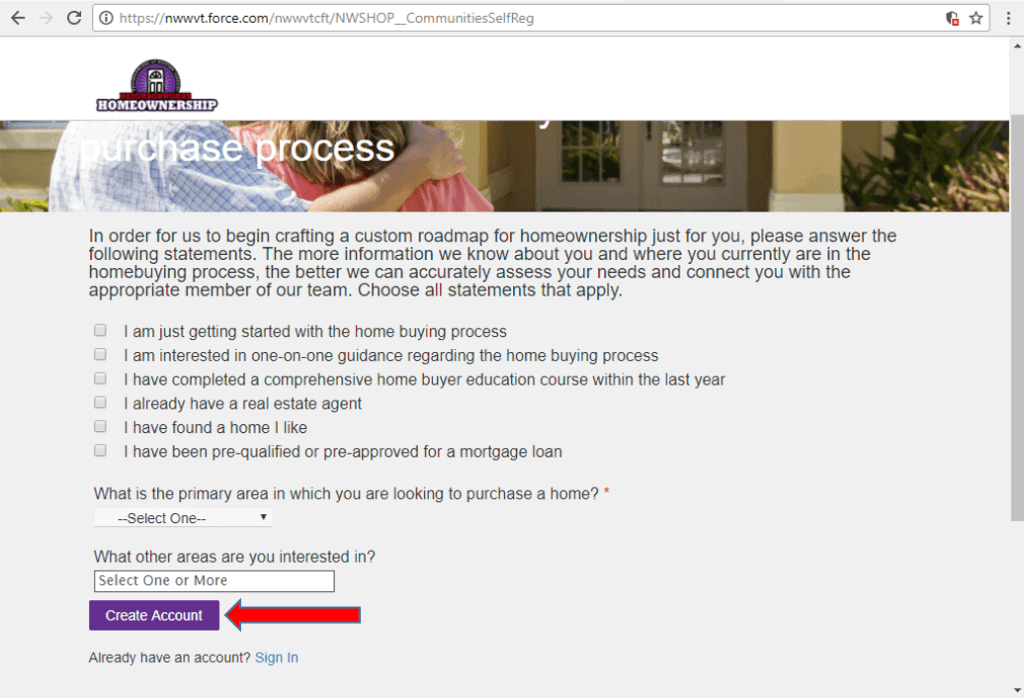 Step 3: Check your Email
The system will then send you a confirmation e-mail, shown below. So, head to your email and find the email from NW of Western Vermont ([email protected]) (it may be in your promotions tab if you have a gmail account). Simply click "Confirm your account."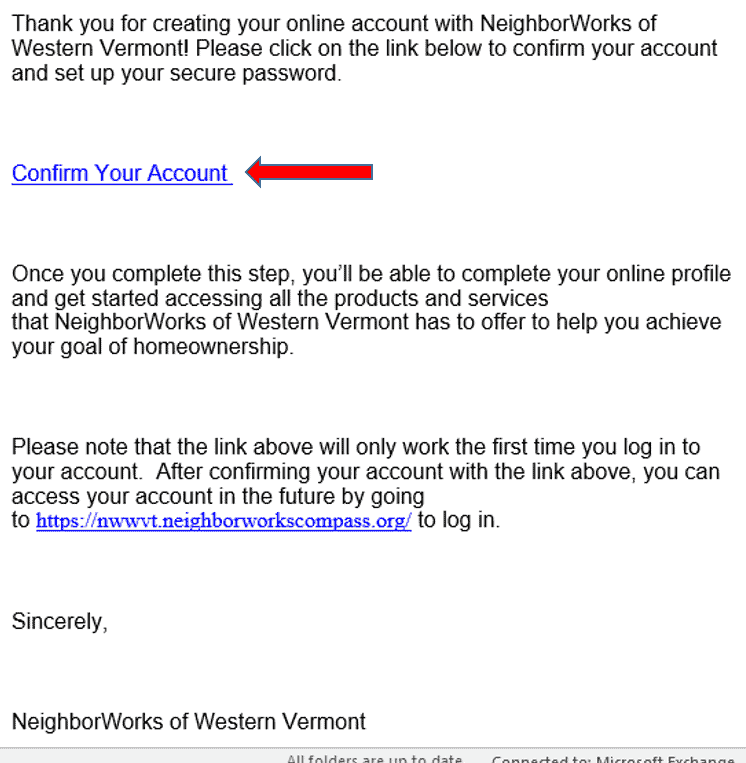 A window will open prompting you to create a password for your account. Your password must be at least 8 characters long and have a mix of letters and numbers.
When you have decided on a password, click "Set Password."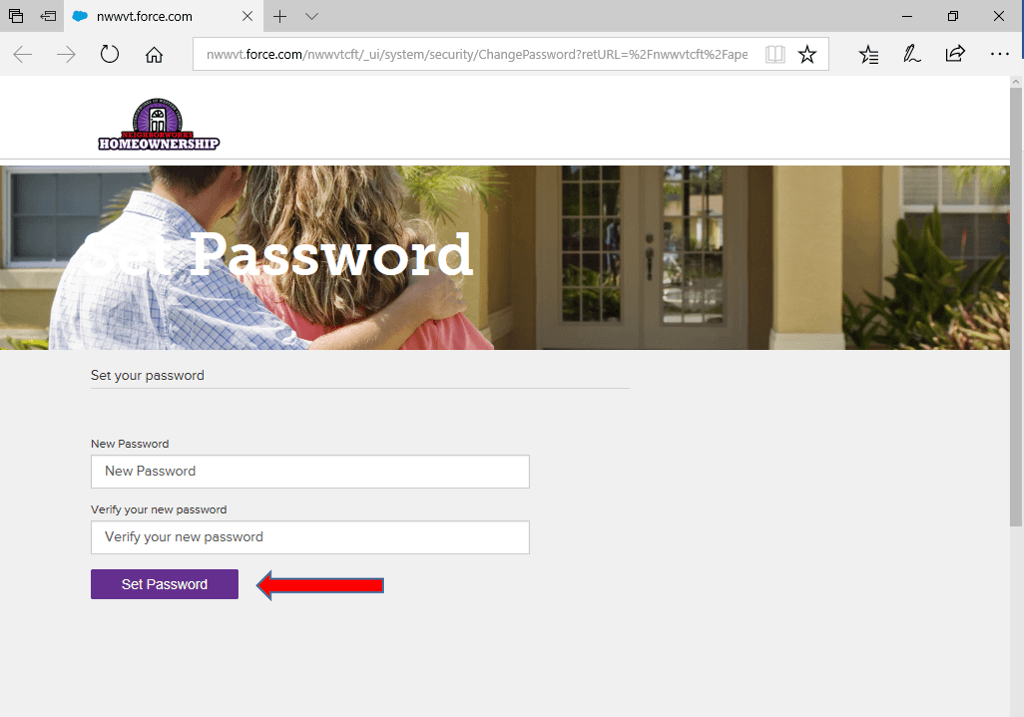 Step 4: Complete your Profile
At the bottom center of the next page that opens you will see a purple button prompting you to complete your profile.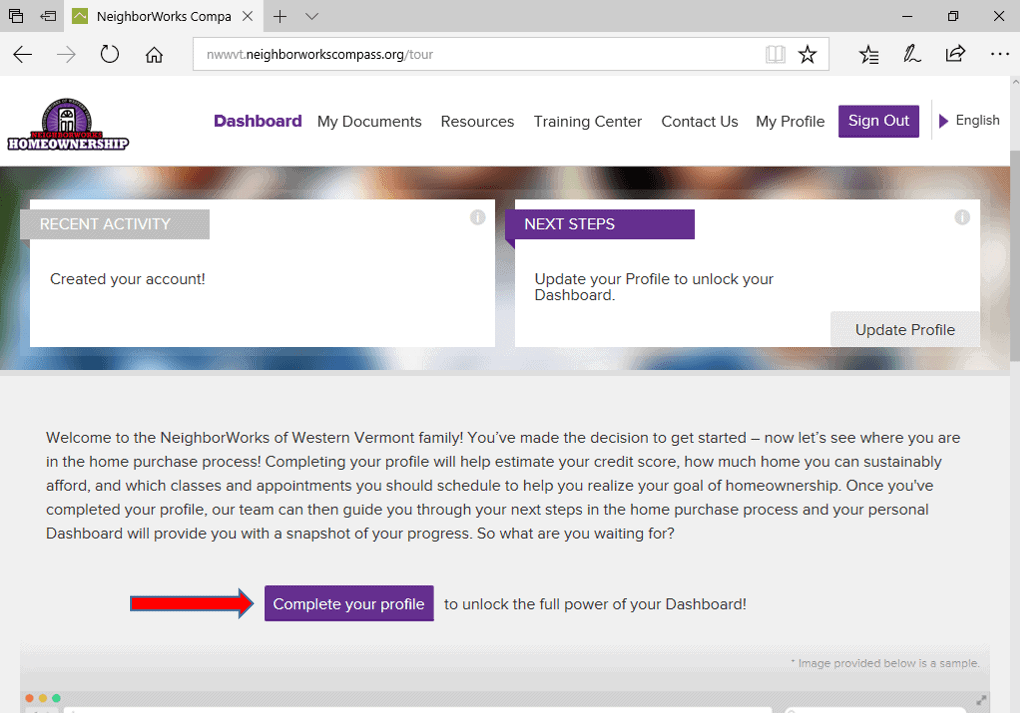 Click on this, and it will bring you through a series of questions regarding information about yourself, where you are in the homebuying process, and basic financial information.
There are several pages of this (screenshots below) and you can track your progress with a percentage bar toward the top of the page. Most of the fields are required to move on, so please take the time to answer the questions truthfully and as fully as possible.
This will help us better customize your experience and make our program even better!
Finally, after you complete your profile, you can click "Save Section."
Step 5: Go to the Training Center
Then, return to the Training Center by clicking on the menu item at the top of your screen and register for the class of your choosing simply by clicking "Register" beside the class date you're interested in.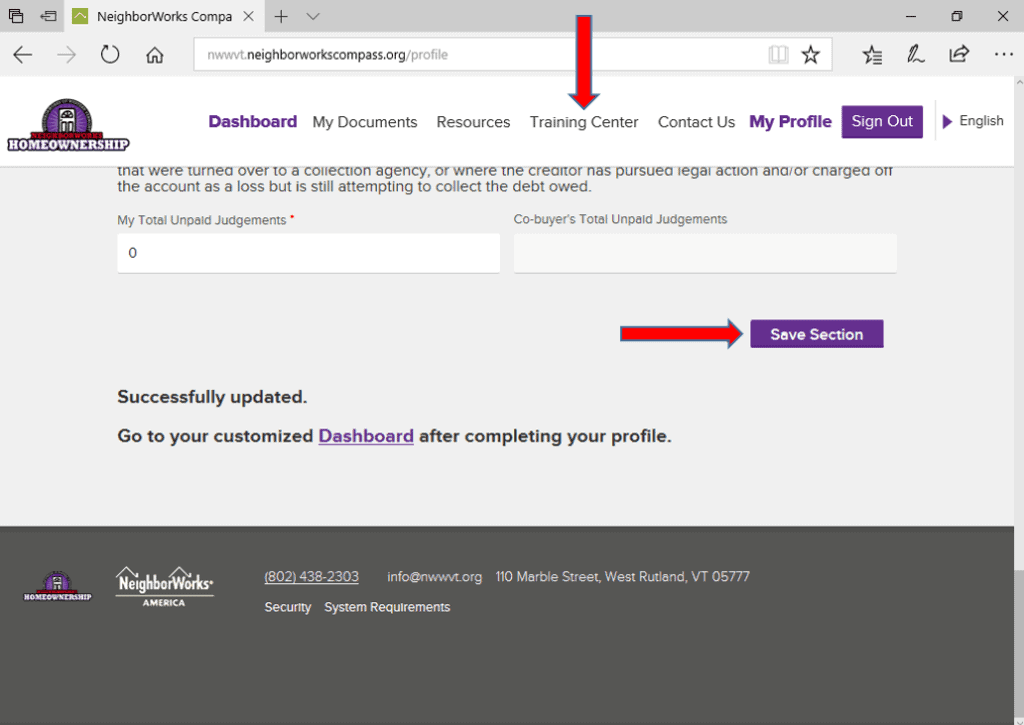 Step 6: Click Register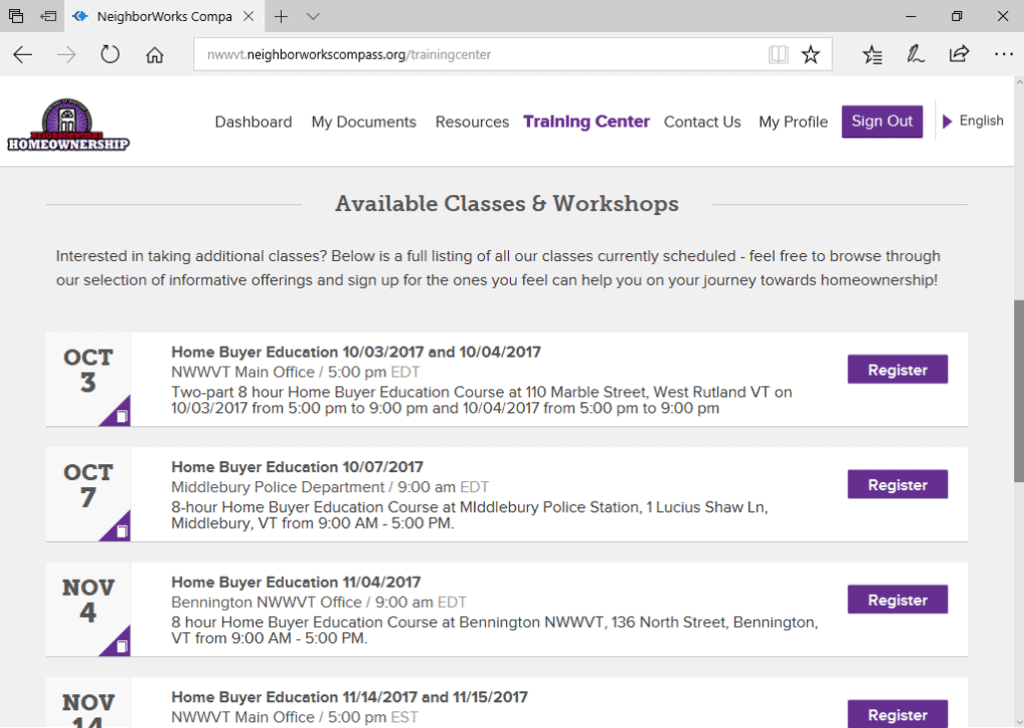 Step 7: Pay for your Class
Once you click "Register," the site will prompt you to fill out your credit card information in order to pay for and reserve your spot in the class.
Compass is a secured site so you needn't be worried about your sensitive information being hacked!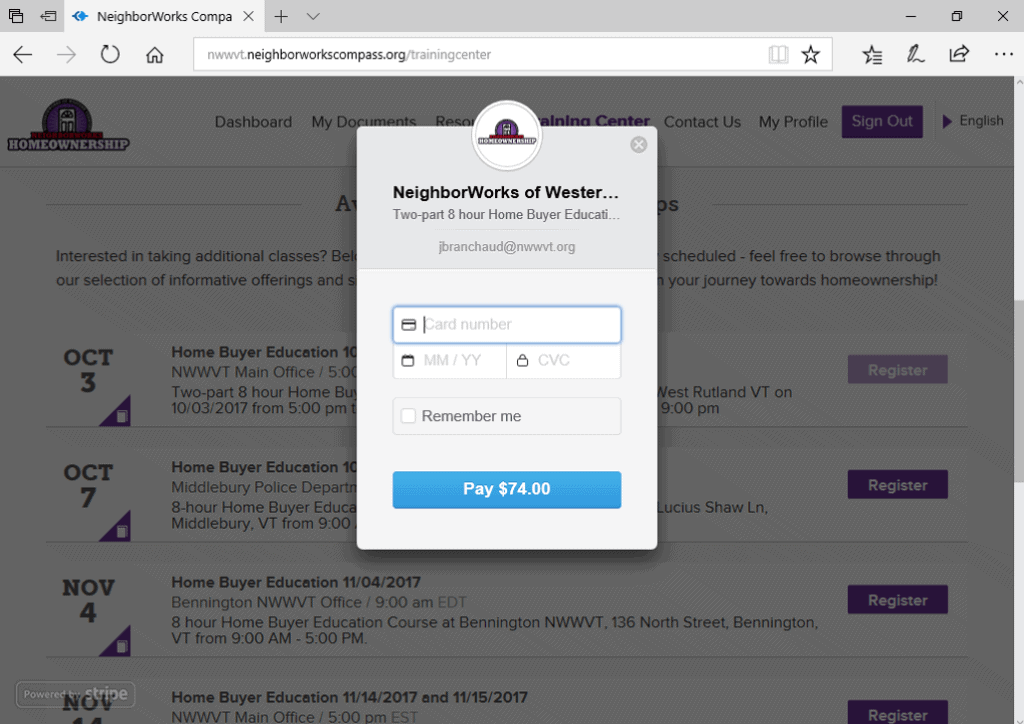 Once you've paid, you're all set!
The class you registered for will now show up under "My Appointments" as booked. You also have the option to reschedule the class from here as well.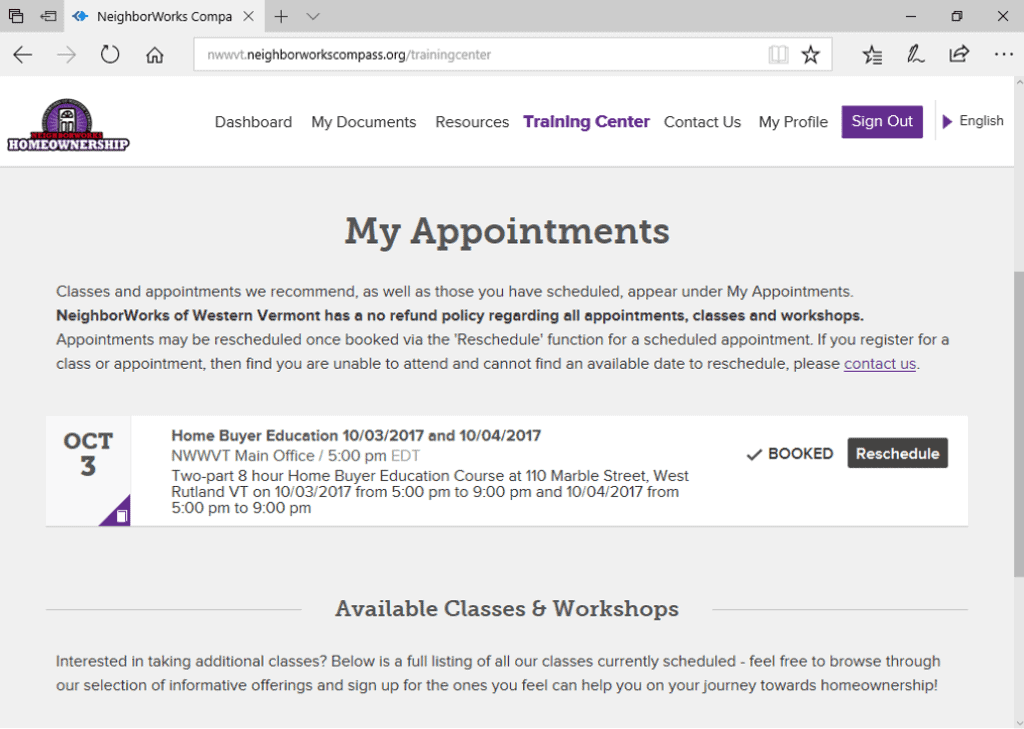 Now that you've set up your profile with us, you can also register for other offerings in the future without having to go through this entire process again. Happy home hunting!