When we purchase a home, we take many things into consideration: What's the neighborhood like? How long will my commute be to work? How's the local school? Does the roof leak? Any evidence of flooding in the basement?
But what about: Can I grow old in this home? If I, like many people, lose mobility with age, will my bedroom still be accessible? Will I be able to move around the bathroom?
Kathy, one of our Home Repair customers in Rutland, shared her story with us:
A Terrible Accident
Kathy and her husband Ray, like many Vermonters, planned to age in their home.
But when Kathy's husband had an accident that left him temporarily paralyzed from the neck down, it was a shock to realize that their home was no longer accessible to him.
No Way Home
As they grappled with what to do – Move? Build from scratch? – the clock was ticking: their insurance would only cover 100 days of nursing care.
Kathy had her neighbor's cousin, Rick Reed, over to pick his brain for possibilities. She recalls Rick, who had done work with NeighborWorks before as a contractor, telling her, "Well, I don't know what direction you should go in but you should start with NeighborWorks."
"Which was good!" Kathy chuckles, "because I didn't know where to turn."
Home Repair Guidance and Financing
"It started with the loan process," says Kathy.
"I met with Amanda and told her that my needs were beyond just financing because I had no idea about contractors, and so she brought Gregg [NeighborWorks' Home Repair Specialist] over and I talked with him."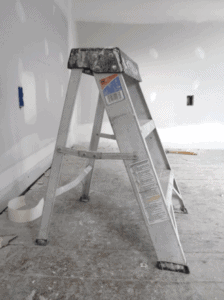 Amanda, the Director of Lending, walked Kathy through the Home Repair loan process.
"It was less painful than if I had gone through a bank – there was more personalized attention and I never felt pressured to come up with extra documents," says Kathy. "Everything was communicated with attention on the details."
As Kathy worked with Amanda to apply for the Home Repair loan, Gregg determined the project scope and reached out to contractors on her behalf.
Against the Clock
"We had very limited time – 100 days before my insurance company would stop paying for off-site nursing care for Ray – by the time we began, we had lost about a month.
"We had 70 days and we needed a responsive contractor, and so Rick stepped in and that same day came with a plumber, electrician, and carpenter and they all committed to getting it done on time."
This is surprisingly fortunate but Kathy reminds us that the contractors started a week before Christmas, meaning that holidays whittled those 70 days down drastically.

With the days passing quickly, Kathy watched her home transform into a work zone with a spare room sanctioned off as her temporary bedroom.
Bathrooms were renovated to be accessible, an elevator was installed, doorways were widened, a ramp was configured off the deck, and an overhead lift was added in the bedroom to facilitate bed access.
Back Home Again
After the whirlwind of December and January, Kathy couldn't believe the transformation in her home when February arrived. Under Gregg's management, the contractors had completed the work on time and under budget.
"The quality was fabulous," Kathy says.
After Ray's injury and during the renovation, she didn't even stop to think about what her home would look like; she was just focused on getting her husband home.
Looking around after the work was complete, she was amazed.
"We were both in tears"
"It doesn't look institutional; it looks like a beautiful home. I didn't even think about how it would feel after – it just needed to be done. And they made it happen with quality, attention to detail, and painlessly.
"Once these guys started working, I stopped worrying. Everybody was so kind and considerate and helpful," she says, adding, "I would come home with groceries and they helped me [put them away]."
"We're so grateful that it all came together – that everybody did their part and were so accommodating for us and that my husband was able to come home.
"We were both in tears when he came home because we were worried he might not. It took all these people to make this happen."
Home Repair with NeighborWorks of Western Vermont
We love experiences like Kathy's story because it demonstrates NeighborWorks' commitment to our mission to help Vermonters make and keep their homes healthy, safe, efficient, and affordable.
To learn more about our Home Repair services and how we can help you or your neighbors, click here.
Read more customer testimonials:
Roof Repair Nightmare: A Testimonial
Maneuvering the Homebuying Process as a Young, Single Woman
A Home Repair Loan Story – Charlotte
Happy at Home in A Northwest Rutland Rehab