On Saturday, July 22, right before the sky opened up for another rainy summer evening, NeighborWorks of Western Vermont had the materials on hand and ready to build some hoops for anyone who was came by the Community Green Space at 113 Library Ave.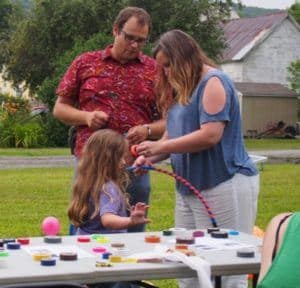 With music pumping us up to hoop, we enjoyed hoop-shaped donuts from Jones Bakery & Donuts and played some corn hole while waiting for kids to arrive.
And we didn't have to wait long until the first family came by. Adults and kids as young as four years old swung through for hoop fun and games.
Expert hooper Dawn Smith-Pliner was cutting and sizing small and heavy hoops while Rockstar Volunteer Matt Storgaard was helping with the decorating. Pink and yellow stripes were a  big hit!
Once the hoops were all taped, we played with balloons and balls, jumping through big hoops and climbing through small hoops while all holding hands in a circle.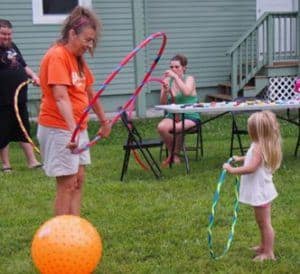 Despite the rain cutting the evening short, everyone received a lesson in hooping on the hip. It takes practice to really get a good spin going, so don't give up!
We had lots of fun and hope that you'll continue hooping all summer long. If you missed the Hoopla, find us at National Night Out on August 1st to make your own hoop and/or show us the moves you've been practicing!