Downtown Rutland enjoyed an evening of art Friday night to welcome in the first full week of July 2017. Merchants Row was buzzing between bursts of rain and sunbows, but that didn't deter gallery visitors from coming out for two opening receptions – one at SPACE, Rutland's Pop Up Art Gallery featuring 13 local artists, and one featuring Christine Holzschuh's small works show, "Go Figure!"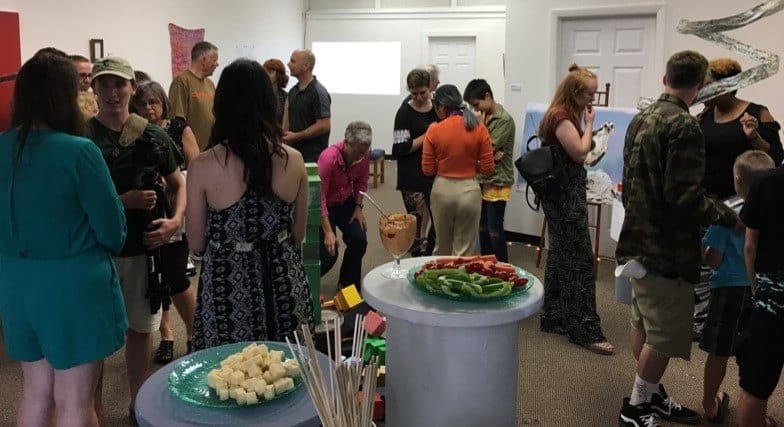 And visitors were going, indeed. With only four hours to enjoy over 120 works of art between the two galleries, one had to remember to try the refreshments, meet the artists, and sway to the music. Dave Burns and his classical guitar were backing a build-your-own-fruit-kebab bar at SPACE while visitors interacted with the pieces on display in new and exciting ways.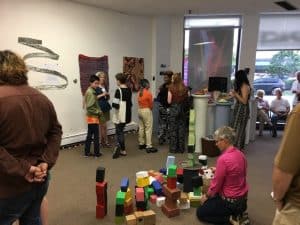 SPACE's current show, "'Transportation,' or simply, 'Transport,'" took people on a journey of discovery for their mind and body. With an expansive mixed media body of work spanning film, sculpture, tattoo, acrylic painting, textile, metal, wood, birch bark, toy trucks, watercolor, pencil, road signs, oil, and license plates, the theme of "Transport" unexpectedly ties everything together.
Throughout the evening, children and adults were on the carpet rearranging Nick Santoro's wood block sculptures as he intended, which was a delightful transformation to witness.
With every re-placement of a block, each hand built a new identity of play. One by one, attendees spun into the central memory of a birch bark spiral to experience the poem, "Police Report," and it only fell down twice during the opening. Don't worry, we've secured it!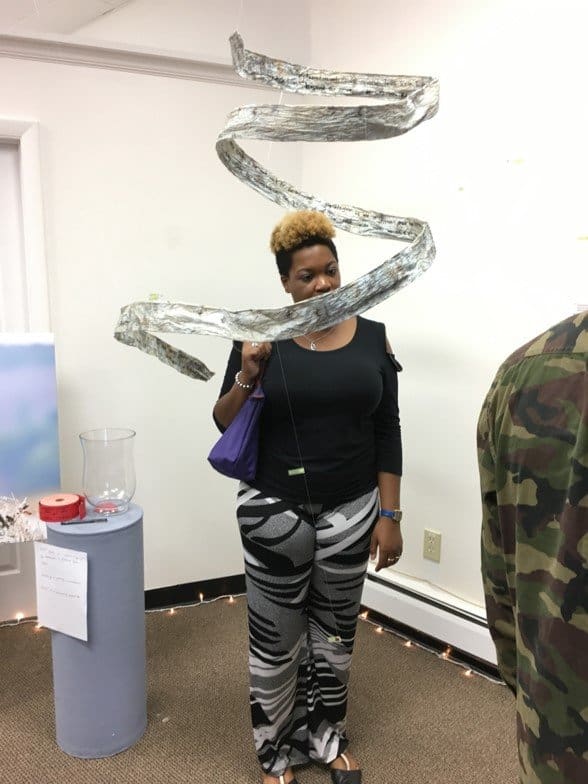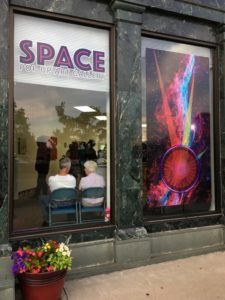 Proud mothers, partners, and children came to celebrate their family's art on display in SPACE – specifically, it was beautiful to see Yedim Dezero's crew in tow with flowers and support all night long, and the pure pride gushing on the children and partner of Josh (x-MO) Morse as they toured the gallery repeatedly picking up blocks and toys.
A stunning celebration of local artwork – you won't want to miss "Transport." Luckily, Green Mountain Power volunteers will be staffing the gallery from NOON – 5:00 PM through August 11, so you'll have a chance to be TRANSPORTED every week day, Monday through Friday. Bring a friend and visit SPACE.
SPACE will have a closing reception on August 11, 2017 from 5:00 – 8:00 PM as part of The Art Walk.