Apply to be the owner of a new Habitat build!
In 2016, NeighborWorks demolished a blighted building at 42 Cleveland Ave in Rutland.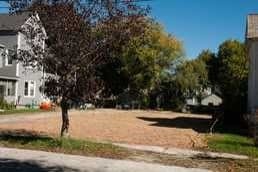 This year, Habitat for Humanity is building a home on the lot, and they're currently accepting applications for homebuyers.
This is an opportunity for an individual or family to live in a new and highly energy efficient home and pay an interest free mortgage.
Habitat's Home Buyer Selection Committee considers:
Need for affordable housing.  They consider current housing conditions, all housing expenses, distance from work, and household size.
Residency – must have lived in or worked in Rutland County for a full year at the time of selection.
Ability to pay – must have annual income between 30-70% of the median income for Rutland County
Background Checks – Sex offender and CORI checks are completed and recommendations from current landlord and employer are required.
Interview – two members of the committee will visit the entire family in their current home.
Willingness to partner – must be willing to complete 200 hours of sweat equity per adult.
Habitat for Humanity of Rutland County is accepting applications for home buyers.  Call 802-747-7400 or email [email protected] to learn more.