In August, NeighborWorks America hosted its NeighborWorks Training Institute in Detroit, Michigan. Our Communications and Outreach Coordinator, Shannon, attended Community Building and Engagement courses and was able to get an in-depth, comprehensive experience of the Motor City.
Here's her takeaway from the birthplace of the automobile.
A Week in the Motor City
I recently spent a week in Detroit, Michigan for a NeighborWorks Training Institute, attending courses about community building and engagement. Since place plays such an important role in these discussions, we spent a lot of time out of the conference center immersing ourselves in the neighborhoods of Detroit, learning skills, techniques, and ideas to bring back to our own communities.
I know what you're thinking- "Detroit? What lessons can be learned from Detroit except what not to do?"
You wouldn't be alone in that thought.
Before I left the airport that Sunday, "Detroit" brought to mind haunting images of entire blocks of vacant buildings and crumbling infrastructure, series of headlines highlighting the number of unemployed, the closing stores, the relocating businesses, the bankrupt city.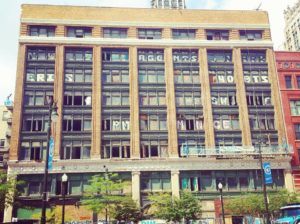 Detroit, the Motor City, built for 2 million and now home to 600,000, the quintessential story of manufacturing's decline in America and a sneak peek at the aftermath of a zombie apocalypse.
On my first night in Detroit I walked along the waterfront walkway, a newly developed stretch of greenery and pathway right along the Detroit River in downtown.
I was passed by toddlers, teenagers, bikers, roller bladers, men speaking Spanish, women in hijabs, families sitting in the patches of grass, kids running through the water features- it was a refreshingly diverse and beautiful stroll.
I actually double checked google maps to make sure I was in the right spot and hadn't accidentally ended up on the Canadian shore.
This was my first glimpse of post-post-apocalyptic Detroit.
The Multiple Narratives of Detroit
Over the course of the following week, I toured neighborhoods, ubered to breakfast spots, walked to community gardens, took the People Mover to lunch.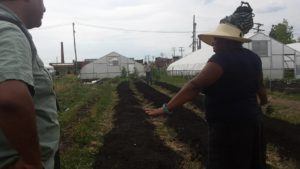 I listened to Mayor Duggan talk about the relighting of the entire city, the auctioning of vacant lots, the suits against absentee owners.
I stared, mouth agape, at rows of houses being consumed by weeds and graffiti, at old industrial buildings being swallowed into the ground, at the renovations of historic skyscrapers.
I heard community organizers, artists, gardeners, entrepreneurs, and wage laborers speak with gritty optimism about their city; noticed their pride in being one of the "ones who stayed."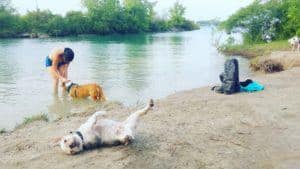 I tasted food in Greek Town, sampled beer at Atwater Brewery, licked ice cream at Moo Town, guzzled water at the public library (did I mention it was HOT?).
I went swimming on Belle Isle, ate dinner at a repurposed church in Southwest Detroit, watched thousands of bikers ride past on a Slow Roll, attended a barbeque at an abandoned recycling center turned outside art exposition.
A City of Hope?
I was fascinated at every turn, my head constantly swiveling in circles to take it all in: the decay, the rebirth, the disinvestment, the revitalization, the people of all shapes, sizes, colors, and creeds; the atmosphere- of strength, of determination, of hope.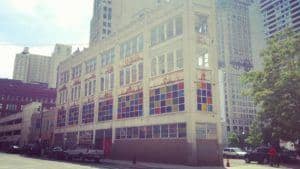 Many people have written about this, as the New York Times creatively phrased it, "post-post-apocalyptic" Detroit. I suggest reading these pieces here and here, and most of all, I suggest visiting.
Detroit sucks you in- the excitement for the future, the respect for the past, and the cultural vibrancy hang thick in the air.
It's contagious. And also… oddly familiar?
The Rise and Decline… and Rise of Cities
The story of the rise of an industry, a burgeoning population, and a prospering city followed by the relocation, deterioration, or shuttering of that core industry and subsequent flight, disinvestment, and economic despair is not a unique narrative.
Many cities in America have suffered the same tragedy on different scales.
Rutland, Vermont is one of them.
Rutland, Vermont
Like Detroit, Rutland saw its population boom, its downtown develop, and its workers flourish due to the marble industry.
Like Detroit, Rutland saw its defining industry decline. Like Detroit, the population, the infrastructure, the employment numbers deteriorated rapidly. Like Detroit, Rutland showcases vacant homes, unemployed residents, and rampant substance abuse.
And, like Detroit, Rutland is resilient.

Project VISION: Fostering Resiliency
In the past six years, Rutland has seen a flurry of reinvestment and revitalization thanks, in large part, to those who stayed, those who refuse to give up, those who remember the past and harbor hope for the future.
Those who hope started a multi-pronged effort to make Rutland the "happiest, safest, and healthiest place to live on earth" in 2013 called Project VISION. It's a community initiative to tackle substance abuse at its core by fostering neighborhoods of choice, empowering community residents, providing ample substance abuse prevention and treatment, and investing in a well-trained and innovative police force.
Rutland, like Detroit, is redefining itself with the pride and strength of its people.
These are cities to watch.