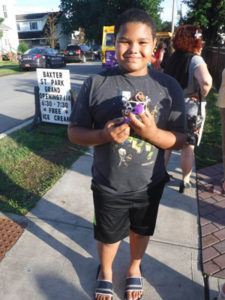 With 100% chance of thunderstorms forecasted for the afternoon, the grand opening of Baxter Street Park, the newest city park in almost 30 years, looked dim and wet. But this is Vermont, where "if you don't like the weather, wait ten minutes." Sure enough, after a thunderstorm shook the marble valley from 5:00-6:00 PM, the sky gave way to sun minutes before the scheduled ceremony.
With free ice cream promised, crowds of residents flocked out for the celebration, remarking at the clear blue sky that the storm had parted to reveal. The Happy Cow Ice Cream Truck (which donates 100% of its proceeds to local charities) pulled up alongside the new playground and park, and a lined formed to the joyful tune of summer, full of grinning kids and teenagers- it's not every day you get a free creeme AND a new park.
The short ceremony began with Cindi Wight, the superintendent of the Rutland Recreation and Parks Department, giving thanks to the crews who assembled the park, including Park Department employees and volunteers, to the Rotary Club of Rutland for the donation of the beautiful fence, to Green Mountain Power for the trees, and to Headstart of Rutland for the playground.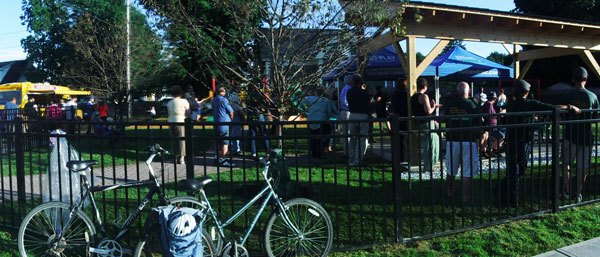 Cindi went on to gave a special thanks to NeighborWorks of Western Vermont as a new and unconventional partner. NeighborWorks had used grant money from the Vermont Community Development Program to raze a blighted building that had formerly been on the corner lot, adjacent to another lot that had been vacant since a blaze in 1971 burnt the structure to the ground. After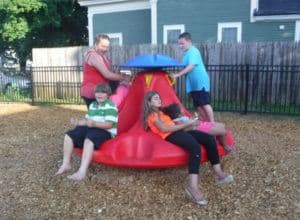 leveling and reseeding the lot, NeighborWorks deeded the land to the City of Rutland, and from there, the process to create a community-designed park began.
A year later, neighborhood residents and their children enjoy the formerly vacant and blighted lot as a place of pride. It takes a community, and here in Rutland, that is what defines us.