As towns and cities across the country face economic, social, and structural challenges, residents consider how community affects positive social change.
"What's the right level to pursue social repair? The nation may be too large. The individual is too small. The community is the right level, picking a piece of land and giving people a context in which they can do neighborly things…" – David Brooks, American conservative political and cultural commentator
In a recent Op-Ed written for the New York Times, titled One Neighborhood at a Time, David Brooks discusses the positive changes taking place in Lost Hills, CA.
Addressing the problem of what he calls, "social isolation," he notes that the people of Lost Hills are taking a comprehensive approach to a town that is in need of a community:
"First, they are flooding the zone. They're not trying to find one way to serve this population. The problems are so intertwined, they are trying to change this community from all directions at once. In Lost Hills there are new health centers, new pre-K facilities, new housing projects, new gardens, new sidewalks and lights, a new community center and a new soccer field. Through the day, people have more places to meet, play and cooperate with their neighbors."
Whether in California's Central Valley, or in central Vermont, positive change happens when it is driven by the residents of the community,  when we understand that the problems facing many cities and towns are intertwined, and need to be addressed as such.
Working Together Works
Rutland, Vermont is a good example of how community affects positive social change.
Project VISION, the organization spearheading positive change in Rutland, facilitates collaboration between community stakeholders, breaking down the silos that too often prevent communities from effective communication and teamwork.
Project Vision has participation from organizations such as the Rutland Redevelopment Authority, Rutland Regional Medical Center and Rutland City Police Department.
Project VISION is directly responsible for the creation of three main committees to target the needs facing Rutland:
Building Great Neighborhoods Committee

– Focused on community revitalization efforts  including block parties, ice cream socials, park design and creation, and neighborhood beautification projects.
Substance Abuse: Prevention and Treatment

– The goal of this committee is to increase communication between providers, create safety nets for the gaps in treatment, increase awareness of treatment options as well as concerted prevention efforts.
Crime and Safet

y – This committee set goals to reduce burglaries, drug marketplaces, and recidivism as well as to implement DDACTs (Data Driven Approaches to Crime and Traffic Safety) model for traffic and crime reduction.
The full results of the progress for each of these committees, including results for 2015, can be found here.
This organization is full of vitality because the participants are residents of the region and have a vested interest in the city's revitalization.
Multifaceted Approach: Resident Involvement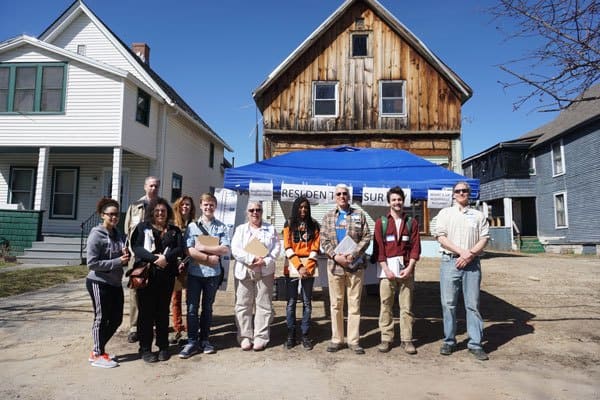 Feedback
The NorthWest neighborhood of Rutland had been identified as a neighborhood in decline and in specific need of revitalization. In 2013, NWWVT conducted a survey to evaluate resident perceptions of the neighborhood and then re-surveyed the community in the spring of 2016.  
Survey results showed improvements in resident experience and perceptions about the neighborhood, specifically noting that the neighborhood improved "some" or "a lot". Public services (police, fire, and ambulance) were all rated higher in the recent survey. In addition, 34% more residents in 2016 stated that community residents were very safe going about their daily lives.
When asked if they would like to be involved in neighborhood volunteer activities, 42% of residents answered yes and offered their contact information.
The response to Project VISION has also been extremely positive. Answers to the question, "The community has improved some or a lot because…." include:
"I see Project VISION giving people hope. Encouraging them to take responsibility."

"Project VISION, neighborhood meetings, renewing houses, planted trees"

"Community Spirit! Project VISION on board"

"There's more awareness and people are taking more action to get things done."
For the complete results of the community impact survey click here.
Leadership
As part of the effort to directly involve residents, NeighborWorks of Western Vermont and the Housing Trust of Rutland County created a Neighborhood Voice Coordinator role for Northwest Rutland. Pam Favreau holds this position with the goal of encouraging residents to speak up.
Support
Rutland Welcomes formed a group of 175 people committed to embracing newcomers as well as current residents. Close to 200 residents attended a meeting for a group that has one goal – to help out other members of the community with anything they may need. More information on how to join and help others can be found at rutlandwelcomes.slack.com.
Multifaceted Approach: Police Collaboration
It was not long ago that heroin was making headlines in Vermont.  Opioid addiction and its harrowing effects on the communities of Vermont was the central focus of Governor Peter Shumlin's State of the State address in 2014.
VISION Center at Rutland police headquarters now aims to address more than just the criminal activity related to illegal drugs. Along with law enforcement, eight other partners are involved, including a domestic violence advocate, a mental health crisis clinician and alcohol counselor, staff from the Deputy State's Attorneys' office, social workers, probation and parole and a retired professor focused on unifying the community.
The results are encouraging, drug related crimes have decreased dramatically with a recent update from project VISION reporting that from 2013-2015 burglaries declined by 60 percent; robberies by 53 percent, shoplifting by 36 percent and thefts by 20 percent.
Police activity in Rutland is being seen by residents as more collaborative and helpful, rather than a representation of criminal activity in their neighborhoods.  
Jennifer Yakunovich, a resident of the northwest neighborhood who just recently bought a home on Library Avenue, told the Rutland Herald in a recent article, "I think law enforcement has done a great job of policing the neighborhood," she said. "In just the week I've lived there, I've seen a police presence — not a punitive one. I see them pulled over, chatting with the neighbors."
Working Towards a Bright Future
The efforts to revitalize Rutland,VT have been growing steadily and the momentum is  encouraging. If you would like to be a part of this effort, visit the Project VISION homepage where you will find updates about community events as well as volunteer opportunities.
Stay tuned for Part Two which highlights the effects of homeownership, stable neighborhoods, and healthy residents in Rutland, VT.