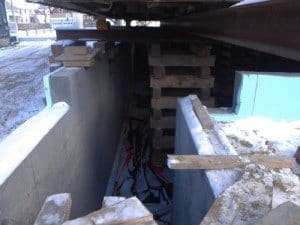 Rutland, VT– On January 11th, an exciting new development in community revitalization took place in Northwest Rutland: 59 Baxter Street, which had been a vacant property for three months, was placed back onto its newly laid foundation.
That's right: placed back onto its foundation. The wood-framed two story home with a bright (and sturdy) future was lifted and moved into the backyard where it sat for two weeks on wheels and steel I-beams as the concrete cured.
Grant Money at Work
In July of 2014, the City of Rutland received a $1.25 million implementation grant through the Vermont Community Development Program to be used for acquisition, demolition, and rehabilitation of vacant and physically deteriorated properties in Northwest Rutland.
NeighborWorks of Western Vermont, the sub-grant recipient, has acquired four properties in the subsequent year and a half.
NeighborWorks Properties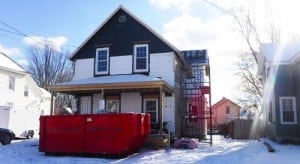 The properties are all located within walking distance of 59 Baxter. One at the corner of Baxter and Library, which will become a new park in spring of this year, and the other two located on the newly repaved Library Ave.
The 120 Library Ave property currently being rehabilitated proudly displays a front porch that unites it with its neighborhood's architectural style, and NeighborWorks' construction team welcomes anyone in the neighborhood to stop in and check their progress on this home, which will be finished this spring.
65 Baxter Street is becoming a new playground and park, and 113 Library Ave has been razed and will become a city green space, reinvigorating the neighborhood with pride and beauty.
Northwest Rutland
This is all part of an effort to reinvigorate the Northwest Neighborhood by the engaged and motivated neighbors who live there.
Northwest Rutland, with its beautiful and historic homes, its proximity to downtown and to Pine Hill Park, as well as all other amenities such as the new pedestrian and cyclist creek path to the Farmer's Center, is stepping into the spotlight and reclaiming its image as the proud and strong community that it is.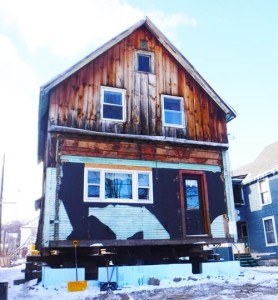 NWWVT's Executive Director, Ludy Biddle, was excited for the move. "We all make promises," she commented, "and it's fun to see that we're all delivering. This is part of the larger vision for the neighborhood."
Scott Tucker, Executive Director of Project VISION, agreed. "Together," he said, highlighting the fact that Project VISION is a coalition of a diverse group of community members and local organizations, "we're building great neighborhoods. Project VISION members are very excited! Let's keep the momentum going!"
Biddle also added that potential buyers are invited to view the property that will soon be for sale, as any buyers who move quickly will be involved in the interior design stages of the rehab. Gene Felder, NeighborWorks of Western Vermont's Realtor, can be contacted with any questions, at [email protected].
Get Involved
Join our Newsletter for more updates
[mc4wp_form id="1471″]