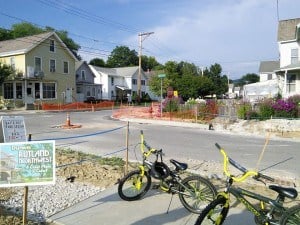 Rutland, VT. The Rutland City Recreation and Parks Department and NeighborWorks of Western Vermont are creating a new mini park at 65 Baxter Street in Rutland City. There will be a meeting at the site of the park on Sunday, August 23, 2015 at 12:00 p.m. to review two concepts based on community input gathered at a previous meeting.
The park will be on the site of a formerly-blighted property and will be designed by community residents. The Recreation and Parks Department hopes to raise $10,000 through an online fundraising campaign, which kicks off on August 25, 2015. Visit http://www.rutlandrec.com/baxter-street-park to learn about the campaign.
The community will have to choose just one concept for the approximately seven thousand square foot space on the corner of Baxter Street and Library Avenue. The City held a well-attended public meeting at the future site of the park on July 27th to hear ideas from kids, families and neighbors. The top three features were: bocce courts, a play ground, and a gazebo or picnicking area.
"The City is excited to add a new neighborhood park to meet the needs of the residents. Places for neighborhoods to gather and play is an integral part of what makes a community strong," said Cindi Wight, Recreation and Parks Department Superintendent.
"This is such a great opportunity to get rid of blight in this neighborhood and turn it into a beautiful and useful community asset for neighborhood residents," said Mary Cohen, HomeOwnership Center Director at NeighborWorks.
NeighborWorks of Western Vermont (NWWVT), a local homeownership nonprofit, will use funds from the Vermont Community Development Block Grant to transform the property from blighted property to green space. NWWVT will then hand the property back over to the City for the creation of a community park. NeighborWorks plans to eliminate three more blighted structures and renovate seven homes in the northwest area of the City. NeighborWorks will sell the newly-repaired homes to owner-occupants. The investment of public money in the neighborhood is intended to improve the health and safety of the housing stock, increase homeownership rates, and encourage private investment.
"We are already seeing interest from private investors who are community-minded and willing to invest in this neighborhood," Cohen said. "We are looking forward to getting this project fully underway and this park is a great place to start!"
Rutland Recreation and Parks is a Rutland City department serving the leisure needs of the residents from recreation programs to beautiful city parks.
NeighborWorks of Western Vermont is a nonprofit one-stop shop, providing all the answers and support homebuyers and owners need: homebuyer and financial management classes, realty, lending, home repair, energy efficiency and more.